Vacuum Suction Cups leave no marks when handling objects.
Press Release Summary: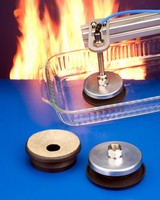 High Temperature Vacuum Suction Cups feature Viton® fluorocaoutchouc FPM-F rubber pad with heat-resistant felt coating held by metal mounting plate. Suction cups handle hot glass, cookware, and metal objects in pick-and-place applications. Capable of excursions up to 752°F, cups are available in 3.82 in. OD with G 3/8 in. center port. Applications include handling automotive windshields and all types of tempered glass and cookware.
---
Original Press Release:

Vacuum Suction Cups Handle Extremely Hot Glass



A new line of vacuum suction cups that are designed for handling hot glass or metal objects in momentary pick-and-place applications, without leaving marks, is being introduced by Anver Corporation of Hudson, Massachusetts.

Anver High Temperature Vacuum Suction Cups feature a special Viton® fluorocaoutchouc FPM-F rubber pad with a heat-resistant felt coating that will not mar material surfaces. Capable of excursions up to 752°F (400°C), these high heat-resistant vacuum suction cups are designed for momentary pick-and-place applications with hot glass, cookware, and metal objects.

Available in a 3.82" dia. O.D. size, with a G 3/8" center port, Anver High Temperature Vacuum Suction Cups incorporate a metal mounting plate which firmly holds the rubber and felt coated pad. Applications include handling automotive windshields and all types of tempered glass and cookware.

Anver High Temperature Vacuum Suction Cups are priced from $ 197.00, depending upon quantity. Literature is available upon request.

For more information contact:

Anver Corporation
Mark Laycox, Group Manager
36 Parmenter Rd.
Hudson, MA 01749
(800) 654-3500 FAX (978) 568-1570
e-mail: [email protected]
www.anver.com