Vacuum Suction Cups hold smooth, dry, non-porous loads.
Press Release Summary: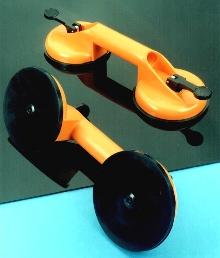 Vacuum Hand Suction Cups allow users to handle plastic or metal sheet, glass, and polished stone without touching edges and risking injury or damage. Manual, lever-actuated hand lifters have 66-lb carrying capacity (each) via their two 4¾ in. dia rubber pads. Pads stick to surface by vacuum when cam levers are flipped into position. They suit applications such as lifting floor and wall panels and moving furniture.
---
Original Press Release:
Vacuum Suction Cup Handles Carry Smooth, Flat, Non-Porous Loads

A new line of vacuum hand suction cups for handling plastic or metal sheet, glass, or polished stone, without touching the edges and risking injury or damage, has been introduced by Anver Corporation of Hudson, Massachusetts.

Anver Vacuum Hand Suction Cups are manual lever-actuated hand lifters that each provide 66 lbs. of carrying capacity and will firmly hold virtually any smooth, dry, non-porous loads to add handles for easy lifting. These hand cups have two 4-¾" dia. rubber pads that securely stick to the surface by vacuum when their cam levers are flipped into position.

Eliminating the need for handling sharp objects from the side or bending and stretching across a sheet, which can cause lower back injuries, Anver Vacuum Hand Suction Cups let you attach handles where you need them. They can be used for a wide variety of applications such as lifting floor and wall panels, moving furniture, and lifting cabinets from the side.

Anver Vacuum Hand Suction Cups sell for $29.50 (list) each. Literature describing a wide range of hand lifting solutions for all applications and industries is available upon request.

For more information contact:

Anver Corporation

Franck M. Vernooy, VP Marketing

36 Parmenter Rd.

Hudson, MA 01749

(800) 654-3500 FAX (978) 568-1570

e-mail: anver@anver.com

www.anver.com


More from Mechanical Power Transmission