Vacuum Regulators are available in anodized aluminum.
Press Release Summary: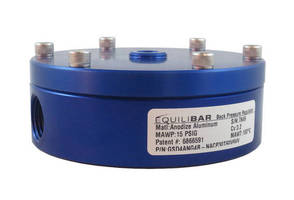 Equilibar's technology for maintaining vacuum pressure despite challenging variable conditions is now available in durable and lightweight anodized aluminum. This new construction offers a lower cost option for economically minded applications needing a vacuum regulator to maintain pressure as flow rates change or vacuum supply varies. Previously, Equilibar vacuum regulators were available only in stainless steel 316 or in PVC plastic.
---
Original Press Release:

Equilibar Introduces Aluminum Vacuum Regulators



Affordable Material Expands Options for OEM and High Volume Installations



Fletcher, NC – Beginning in October 2015, Equilibar Precision Pressure Control will offer vacuum regulators in anodized aluminum, expanding the accessibility of its state-of-the-art pressure control for economically minded OEM and high volume installations.



"Equilibar vacuum regulators manufactured from stainless steel have always offered high performance control in applications with high temperatures or corrosive environments such as vacuum distillation," said Equilibar operations manager David Reed.  "Now that same cutting-edge design is more affordable through the use of less expensive aluminum.  Industrial clients with high flow vacuum molding applications and OEMs with large numbers of vacuum pick-and-place suction cups will be able to benefit from these more economical vacuum regulators."



Equilibar's unique technology offers more accurate and precise control of vacuum pressure compared to standard industrial designs. A large, sensitive diaphragm is the Equilibar's only moving part.  It directly seals against a field of parallel orifices, acting as both the vacuum sensing element and the valve. The Equilibar design eliminates the internal friction of traditional vacuum regulators, which use a spring loaded diaphragm to modulate a sliding valve shaft.



In addition, the multiple orifice design offers the advantage of wide flow rate capability as a single small orifice is utilized for low flow conditions and additional orifices are instantly brought into play as required when the system flow rate increases.



For most industrial vacuum applications, anodized aluminum is an ideal material.  It is lightweight, rugged, and corrosion resistant. In addition to being more economical than stainless steel, it is often more durable than PVC.  Among the applications that are an especially good fit for Equilibar's aluminum regulators are vacuum extrusion and forming systems, vacuum casting, vacuum molding, and vacuum dehydration.



Equilibar regulators are pilot operated.  The vacuum is regulated in a precise 1:1 relationship between a pilot set point vacuum and the vacuum on the main inlet port connection. The pilot vacuum may be applied using either a manual knob-adjusted vacuum regulator or with a high resolution electronic vacuum regulator. The manually operated pilot regulator may be located remotely in a location that is more convenient or safer for the user. The electronically controlled option is available in traditional 0-10VDC or 4-20mA analog or in RS232/485 or Ethernet IP serial digital communications.



The electronic and manual pilot regulators are easily swapped in the field so an application may be initially installed with a simple manual control and later upgraded to an electronic control.



Equilibar vacuum regulators are available in line sizes from ¼ inch through 6 inches with the new lower cost aluminum models currently available in ¼ inch through 2 inch port size.  Wetted parts are color (blue) anodized aluminum alloy 6061-T6 with Viton O-rings and choice of diaphragm material, including PTFE, Buna-N, Viton, and HDPE.



Located in the Blue Ridge Mountains of North Carolina, Equilibar Precision Pressure Control provides custom solutions for the most demanding pressure control applications worldwide. Equilibar engineers focus on rapid customer response, technical excellence, and a creative, collaborative approach.



For more information contact inquiry@equilibar.com or visit http://www.equilibar.com/vacuum-regulators/.



For press release information, contact elizabethjennings@equilibar.com.



For content information, contact David Reed at davidreed@equilibar.com or 828-650-6590.