Vacuum Reclosers offer direct SEL 351R compatibility.
Press Release Summary: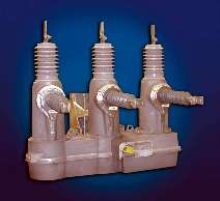 Three-phase TriMod(TM) 300R Series requires only one control cable for full functionality and provides twice the duty cycle required by ANSI C.37.60. Solid-dielectric insulation system minimizes environmental problems associated with typical oil and gas insulation. Removable current transformers are surrounded by grounded metal surface, providing added personnel and equipment safety. Operating mechanism delivers 10,000 maintenance-free operations.
---
Original Press Release:

TRIMOD(TM) 300R Series Enhances Three Phase Recloser Product Line with Direct SEL Compatibility


Joslyn Hi-Voltage announces its latest addition, TriMod(TM) 300R Series, to the recloser switch family. TriMod vacuum reclosers raise the standard of recloser performance by providing 10,000 maintenance free operations with no required maintenance.

The following features make the TriMod(TM) 300R Series Vacuum Recloser a long-life, easy-to-use solution:
o Schweitzer SEL 351R Compatible
o Only One Control Cable Required For Full Functionality Other reclosers require up to three!
o Long-Life Mechanism Operating mechanism provides 10,000 open and close mechanical operations
o Long-Life Vacuum Interrupters Provide twice (2x) the duty cycle required by ANSI C.37.60
o Surge Withstand Testing Exceeds ANSI C37.60 -2003 6.13-.2 simulated surge arrester operation
o Safe and Easy Removable Current Transformers

The removable CTs are surrounded by a grounded metal surface, providing added personnel & equipment safety TriMod(TM) utilizes a solid-dielectric insulation system which provides long-life insulation around the vacuum interrupter. This insulation minimizes environmental and reliability problems associated with typical oil and gas insulation. This solid-dielectric material is field proven and has been used for over 40 years in other industry leading Joslyn products!

Joslyn Hi-Voltage based in Cleveland, Ohio is a subsidiary of Danaher Corporation, a Fortune 500 Company. Joslyn Hi-Voltage is renowned as an industry leader with over 35 years of innovation and world class products and technology support for electric utilities and industrial power systems. Joslyn Hi-Voltage manufactures power transmission and distribution equipment for electric utilities including reclosers, sectionalizers, capacitor switches & controls, transfer switches, distribution automation equipment, disconnect switches, load break interrupter attachments, and load break underground switches. Products use vacuum technology for fault interruption. The company also manufactures Fisher Pierce brand distribution equipment including Powerflex and Autocap capacitor controls, faulted circuit indicators (FCIs), current sensors, and Smartlink communications equipment for fault monitoring and reporting.

For more information contact: Patty A. Kozlow Ph (216) 377-2246 patty.kozlow@joslynhv.com Fax (216) 341-3615 4000 East 116th St.
Cleveland, Ohio 44105-4398 (216) 271-6600 FAX (216) 341-3615
www.joslynhivoltage.com

More from Electrical Equipment & Systems