Vacuum Packaging Analyzer measures volume of residual oxygen.
Press Release Summary: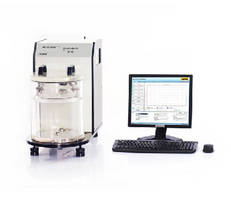 With i-Vacupack 6100, user can quantitatively measure volume of residual oxygen for flexible vacuum packages as well as test seal performance. Inner chamber, where test specimen is placed, is filled with water and sealed with sealing plate. Outer chamber is slowly injected with water to designated level and sealed. After both chambers are evacuated until test specimen expands, residual oxygen within specimen is obtained by fluid level analysis associated with corresponding calculations.
---
Original Press Release:

i-Vacupack 6100 Quantitatively Measures Volume of Residual Oxygen



i-Vacupack 6100 Vacuum Packaging Analyzer is the first instrument worldwide that can quantitatively measure the volume of residual oxygen for various flexible vacuum packages as well as test the seal performance.



The vacuum test cell is composed of an outer chamber and an inner chamber. Before the test, the inner chamber, where the test specimen is placed, is completely filled with water and sealed with the sealing plate. The outer chamber, which is also the measuring chamber, is slowly injected with water to a designated level and sealed. Both chambers are thereafter evacuated until the test specimen expands. The residual oxygen within the specimen is obtained by fluid level analysis technique associated with corresponding calculations.



This vacuum packaging analyzer can be used with our advanced Online Data Management System for packaging testing, which comes with two versions to meet distinct needs of our clients: the could version and the Intranet version



Labthink International, Inc.

200 River's Edge Drive, Medford

Massachusetts, 02155, U.S.A.

Phone: +1-617-830-2190

FAX: +1-781-219-3638

Email: info@labthinkinternational.com

Website: http://www.labthinkinternational.com



More from Electrical Equipment & Systems