Vacuum Loading System offers simplified maintenance.
Press Release Summary: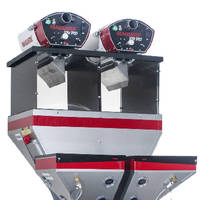 Consisting of autonomously controlled receivers that are 80% shorter than conventional material loaders and receivers, LoPro™ System conveys pellets and regrind from storage to single or multiple blenders. Low-profile receivers protrude only 8 in. above lid of blender, providing low center of gravity that minimizes potential sway on fast-cycling processing machines. Utilizing 1.3 hp single-phase brushless motor, system has conveying capacity of 1,300 lb/hr over 12 ft and 1,000 lb/hr over 20 ft.
---
Original Press Release:

New-Concept Vacuum Loading System is Dramatically Shorter Than Standard Systems and Simpler to Operate and Maintain



Self-Controlling Receivers in Maguire® LoPro™ System Are Extremely Compact at 80% Less Height and Easy to Configure for Automated 'Mini-Central' Conveying to Multiple Blenders



ASTON, PENNSYLVANIA, U.S.A., -- A new vacuum loading system for conveying pellets and regrind from storage to single or multiple blenders is simpler to operate than standard systems and consists of autonomously controlled receivers that are fully 80% shorter than conventional material loaders and receivers. Maguire Products, Inc. will introduce the system at K 2016 (Hall 10, Stand A26).



Aptly named LoPro™, the low-profile receivers protrude only 200 mm (8 in.) above the lid of a blender, providing a low center of gravity that minimizes potential sway on fast-cycling processing machines. Each receiver is self-controlled, with no central control required. Connection and installation is simple, with plug-and-play cabling and sequential linking of components. Receivers load on a first-in / first-out basis. Vacuum is supplied from a "mini-central" unit mounted on a portable floor stand or on the blender frame and is powered by a single-phase brushless motor that has been used in thousands of installed Maguire® GSL™ vacuum loaders.



The discharge or "dump" flap in the LoPro receiver is 3 to 6 times wider than the flap on traditional upright receivers, making possible a dump time of only 1 to 2 seconds per cycle, depending on material flow properties.



The onboard control has a user-friendly set-time button that permits precise fill-time settings. Sound and visual alarms notify if material is not loading correctly.



Maintenance has also been simplified. All operating components of the LoPro receiver are housed in a removable module that allows the receiver to remain in place, making possible quick, on-the-fly cleaning and maintenance. Modules are interchangeable, allowing production to continue in the event that service is needed. Because access is from the side of the module rather than the top as with conventional units, it is easier to check the system and access the filter. A patented blow-back system provides effective filter cleaning at the end of each cycle, eliminating need for manually cleaning the filter.



"Maguire has designed the LoPro system to be affordable, easy to use, readily installed in existing production facilities, and even adaptable to a third-party vacuum system," said Frank Kavanagh, vice president of sales. "Its simplicity alone will enable more plastics processors to obtain the productivity benefits of an automated loading system. In addition, the LoPro system comes with the same 5-year warranty that backs up every other equipment system made by Maguire."



Utilizing a 1.3 Hp (970 w) single-phase brushless motor, the LoPro system has a conveying capacity of 650 kg (1,300 lb.) per hour over 4 m (12 ft.) and 500 kg (1,000 lb.) per hour over 6 m (20 ft.). Maguire plans to offer larger LoPro receivers and vacuum pumps in the future



MAGUIRE PRODUCTS, INC., headquartered in Aston, Pennsylvania, U.S.A., is the world's largest supplier of gravimetric blenders, liquid color pumps, and vacuum dryers and also manufactures loading systems, auger feeders, granulators and related equipment and software. Its customers include injection, blow, and rotational molders, extrusion processors, and compounders. Founded in 1977, Maguire operates six manufacturing facilities in Aston. The company maintains a network of distributors in the Americas and overseas and has three sales and service subsidiaries that stock, sell, and service auxiliary equipment systems from Maguire and its affiliate, Novatec, Inc.: Maguire Canada, Maguire Europe, Maguire Asia, and Maguire IMEA. Visit www.maguire.com

Related