Vacuum Loader has standard brushless motor, pendant control.
Press Release Summary: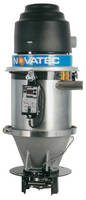 Intended for use by plastics processors, GS Vacuum Loader comes standard with brushless motor and operates in upright position. Magnet-backed control can be left on side of loader or attached to 10 ft long pendant (included) and attached on side of material hopper. Control features load time, no-load alarm, alarm light, and silencer as well as proportioning and purging. Also included, GS sequential Micro-Burst blasts of air keep internal filter from becoming clogged.
---
Original Press Release:

Novatec GS Loader with Standard Brushless Motor, Pendant Control & Pivot Access, Boasts a 5-Year Warranty



Baltimore, MD - Plastics processing auxiliary equipment supplier, Novatec, Inc., has announced that it is introducing a new Vacuum Loader with all the popular features desired by plastics processors as standard - not as options.

Jim Zinski, Product Manager for Novatec Conveying Systems, said, "The brushless feature for vacuum loader motors is very popular with processors because they last 4-5 times as long as loader motors with brushes. That's because in addition to brush wear, the commutator also wears, creating an increasing gap for sparks to occur, and for contamination. Brushes are consumed more quickly when these factors increase, which explains why every time brushes are changed, the succeeding set has a shorter lifespan, which further adds to the maintenance costs. In fact motor manufacturers recommend discarding vacuum motors after 3 brush sets due to this very issue. So, not only do brushless loaders last much longer, there is no need for operators to climb up and use valuable time to service a loader, or install a new one, because brushes need to be replaced."

Jim continues, "Until now, a brushless vacuum motor has been an expensive option with most manufacturers. The Novatec GS Loader (patent pending) includes a reliable brushless motor as standard and that's why Novatec provides a full 5-year warranty on the GS Series, with no exclusions, and a $200 trade-in."

Similarly, controls that can be operated from a pendant have usually been an option but Novatec has also included this popular item as standard on the GS loader. The magnet-backed control can be left on the side of the loader or it can be attached to a 10' long pendant (included) and attached, within easy reach, on the side of a material hopper. The full-featured control includes load time, no-load alarm, alarm light and silencer as well as proportioning and purging."

The unique GS sequential Micro-Burst blasts of air do an excellent job of keeping the internal filter from becoming clogged, further reducing maintenance requirements. Micro-Burst is stronger than standard blowback which is limited by the flow factor of the solenoid.

Jim adds, "In addition, the GS Loader operates in an upright position (Figure 1), which may further extend the life of the motor, and then the double-pivot (Figure 2) movement provides easy access for operators."

Novatec currently has the GSL-19 (1/2 ft.3) in stock for immediate shipment and expects to bring a GSL-12 (1/3 ft. 3) into a stock position in the near future.

Email: sales@novatec.com

Phone: 1-800-237-8379

FAX: 410-789-4638

Press contact:
John Kraft
Johnk@novatec.com
410-409-3369

Additional product information:
Jim Zinski, Product Manager Conveying Systems
JimZ@novatec.com

More from Communication Systems & Equipment