Vacuum Lifter/Tilter eliminates need for hooks or slings.
Press Release Summary: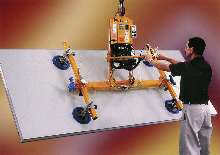 Custom-configured Powered Vacuum Lifter/Tilters let one person handle wood, plastic, composite, or steel panels from their face. With front handlebar controls for vacuum and hoist, products have soft rubber suction pads that protect panel surface while lifting. Units are available in electric- and compressed air-powered models with fully adjustable cross arms, audible and visual alarms, and capacities of 250, 500, 1,000, and 2,000 lb.
---
Original Press Release:
Powered Vacuum Lifter/Tilter Picks Up Panels Without Hooks and Slings

A standard line of powered vacuum lifter/tilters that let one person handle large wood, plastic, composite, or steel panels from their face is being introduced by Anver Corporation of Hudson, Massachusetts.

Anver Powered Vacuum Lifter/Tilters can be custom configured from standard components and let one person handle large panels weighing up to 2,000 lbs. Featuring front handlebar controls for the vacuum and hoist, they have soft rubber suction pads which protect the panel surface and eliminate the use of hooks and slings that can damage the edges and interfere with placement.

Available in electric and compressed air powered models, Anver Powered Vacuum Lifter/Tilters have vacuum reservoirs, vacuum loss sensors, audible and visual alarms, and LCD vacuum displays. Standard 250-, 500-, 1,000-, and 2,000 lbs. capacities are offered with fully adjustable cross arms, 2-, 4-, 8-, and 12-pads, and a wide range of suspensions and brackets.

Anver Powered Vacuum Lifter/Tilters are priced from $3,995.00 up, depending upon configuration. Literature and quotations are available upon request.

For more information contact:

Anver Corporation

Scott Dillon, Group Manager

36 Parmenter Rd.

Hudson, MA 01749

(800) 654-3500 FAX (978) 568-1570

e-mail: anver@anver.com

www.anver.com
More from Services