Vacuum Lifter Generator safely handles non- to semi-porous loads.
Press Release Summary: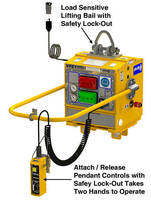 Compatible with ANVER vacuum pad attachments and lifter assemblies, VPE1-GEN2 Series has 4,600 lb max load capacity and withstands heavy production use. Load-sensitive lifting bale with safety lock-out removes risk of accidental release by operator, while internal check valve stops vacuum loss. Solid-state Vacuum Control Module houses all required vacuum generator controls, and vacuum reservoir assists in maintaining safe vacuum level for non-porous loads.
---
Original Press Release:

ANVER Corp Announces New VPE1-GEN2 Series Vac-Pack to Handle Non-Porous to Semi-Porous Loads



VPE1-GEN2 Series With ANVER Vacuum Control Module & Safety Lock-Out for Vacuum Lifters



HUDSON, MA--Furthering its commitment to offer safe and efficient vacuum lifting solutions, ANVER Corporation introduces the new VPE1-GEN2 Series Vacuum Lifter Generator. Designed especially to handle non-porous to semi-porous loads, these rugged generators can withstand heavy production use and they are compatible with an extensive selection of ANVER vacuum pad attachments and lifter assemblies.



The newly designed VPE1-GEN2 Series Vac-Pack is full of safety features, giving operators peace of mind when lifting loads. To remove the risk of accidental release by an operator, the Vac-Pack has a load sensitive lifting bale with safety lock-out that insures the pendant controls are active only when the lifter and load are lowered completely (available on most horizontal models), and a separate attach and release safety lock-out mechanism on the control pendant itself.



A solid-state Vacuum Control Module houses all the required vacuum generator controls in one sturdy unit, including safety lights and the VLS-03E audible vacuum leakage warning system. The VLS-03E sounds an alarm if a slow vacuum leak is present and the vacuum level drops to a pre-determined set point. In the event of a power failure, the VPE1-GEN2 Series has an internal check valve to stop vacuum loss, in addition to a large vacuum reservoir to assist in maintaining a safe vacuum level for non-porous loads.



Other standard features include an ergonomic control handlebar that is easy to grasp and allows operators to easily and safely maneuver an attached load without touching the load itself. The large loop handlebar can be adjusted for smaller size loads. All gauges, indicator lights, and power switches are mounted on the front of the control panel for easy visibility and accessibility. The control pendant clip mounts to the front handle on a 10 ft. coiled cord and provides rapid attach and release functions at the operator's fingertips. Units are available with heavy duty frames for mounting remotely.



The VPE1-GEN2 Series has a rated load capacity up to 4,600 lbs (2,087kg) depending on the model and pad attachment. Optional generator configurations and set-ups are available. Contact ANVER for further information and application requirements.



About ANVER Corp

ANVER, founded in 1968, is a North American leader in vacuum handling technology. ANVER is a full-service manufacturer offering a complete range of vacuum handling products from miniature vacuum suction cups and vacuum pumps to complete Mill-Duty Vacuum Lifting Systems.



Contact Information



For more information, please contact:

ANVER Corporation

36 Parmenter Rd.

Hudson, MA 01749

Scott Dillon

Group Manager

Phone: +1-978-568-0221

E-mail: info@anver.com

Website: www.anver.com

More from Electronic Components & Devices