Vacuum Interrupter Monitor detects loss of vacuum.
Press Release Summary: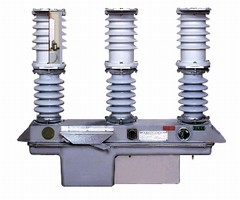 Available in VBM capacitor switches, VacStat(TM) continuously monitors vacuum interrupters and if loss of vacuum is detected, unit blocks operation of switch, provides local indication, and actuates relay contact that can be monitored remotely. Using VacStat eliminates off-line routine vacuum interrupter inspection while minimizing risk to employees, customers, and assets.
---
Original Press Release:

Introducing the VacStat(TM) Vacuum Interrupter Monitor



Now Available in VBM Capacitor Switches. The only Online vacuum interrupter monitor on the market.

The new VacStat(TM) vacuum interrupter monitor is a breakthrough in vacuum switching technology. Vacstat provides real-time monitoring of vacuum interrupters. If a loss of vacuum is detected it blocks operation of the switch, provides local indication and actuates a relay contact that can be monitored remotely. This exciting new technology is now available in our VBM capacitor switches. Maintenance and operating costs are reduced because offline routine inspections can be eliminated. The indicator tells the operator if there is a problem and the switch will not operate.

FEATURES:
o Continuously monitors the vacuum interrupters
o Blocks electrical operation if problem is detected
o Local and remote indication of interrupter status

BENEFITS:
o Eliminates off-line routine vacuum interrupter inspection
o Increased reliability
o Reduces the risk of harm to your employees, customers, and assets

Why Guess? Knowing is Better!
The guesswork of determining if vacuum is present or not is minimized because vacuum status is provided in real time.

Joslyn Hi-Voltage manufactures power transmission and distribution equipment for electric utilities including reclosers, sectionalizers, capacitor switches & controls, transfer switches, distribution automation equipment, disconnect switches, load break interrupter attachments, and load break underground switches. Products use vacuum technology for fault interruption.

The company also manufactures Fisher Pierce brand distribution equipment including Powerflex and Autocap capacitor controls, faulted circuit indicators (FCIs), current sensors, and Smartlink communications equipment for fault monitoring and reporting.

For more information contact:
Patty A. Kozlow
Ph (216) 377-2246
patty.kozlow@joslynhv.com
Fax (216) 341-3615


More from Material Processing