Vacuum Generator features split unit design.
Press Release Summary: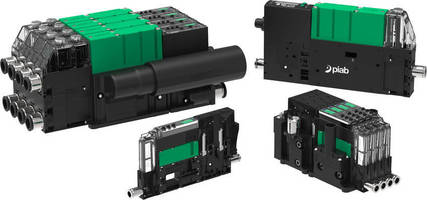 As compact, all-in-one, stackable ejector platform, up to 4 piCOMPACT®23 units can share same manifold and pneumatic connections. Integrated valve of Blow-off+ feature ensures efficient and energy-conserving blow-off for accelerated production cycles and can also be used to float suction cups while positioning them or to clean cups in dusty environments. Other features include self-adhesion control, IO-Link communication, intelligent blow-off (IBO), and Self-Adhesion Control (SAC).
---
Original Press Release:

Optional Added Features Offer Optimal Vacuum



piCOMPACT®23 is now available with a range of unique and patented added features



Hingham, MA - Improved and intelligent blow-off functions, a split unit design, and a self-adhesion control feature are a few of the new added extras on offer in Piab's premium piCOMPACT®23 vacuum generator platform. This impressive range of proprietary and patented added features, which also includes IO-Link communication, has the potential to provide optimal vacuum generation for every application.



The compact, all-in-one ejector platform is stackable; up to four units can share the same manifold and pneumatic connections, such as a common feed pressure and exhaust. The option to utilise a split unit design and separate the ejector from the control unit offers added flexibility, particularly where space is limited or for minimising the weight carried by robot arms.



The integrated and patented valve of Piab's proprietary Blow-off+ feature ensures more efficient and energy-saving blow-off, enabling faster production cycles. It can also be used to float suction cups whilst positioning them in, for instance, ergonomic lifting aids, or simply to clean cups in dusty environments.



A patented intelligent blow-off (IBO) feature automatically switches off the blow-off when the vacuum is gone, offering further energy-saving. This feature is also compatible with the bi-stable (latching) on/off valves that can be used in systems prone to emergency stops or those handling expensive objects.



Finally, Piab's patented Self-Adhesion Control (SAC) cleverly recognises and eliminates any vacuum created in suction cups when the ejector is not engaged, an irritating problem affecting both robots and manual lifting equipment during the initial positioning of suction cups.



"Most of these optional added features are unique to piCOMPACT23 and enable us to offer a truly optimal set of functions in our premium all-in-one vacuum ejector platform that will give our customers the opportunity to achieve the best possible performance in any application," states Joseph Karbassi, Vice President of Piab's Automation Division.



About Piab

Established in 1951, Piab designs innovative vacuum solutions that improve the energy-efficiency, productivity, and working environments of vacuum users around the world. As a reliable partner to many of the world's largest manufacturers, Piab develops and manufactures a complete line of vacuum pumps, vacuum accessories, vacuum conveyors and suction cups for a variety of automated material handling and factory automation processes. Piab utilizes COAX®, a completely new dimension in vacuum technology, in many of its original products and solutions. COAX® cartridges are smaller, more energy efficient and more reliable than conventional ejectors, and can be integrated directly into machinery. This allows for the design of a flexible, modular vacuum system. Piab is a worldwide organization with subsidiaries and distributors in almost 70 countries. Its headquarters are in Sweden. For more information about Piab vacuum solutions for a diverse range of applications, visit www.piab.com.

Related