Vacuum Conveyors satisfy USDA requirements.
Press Release Summary: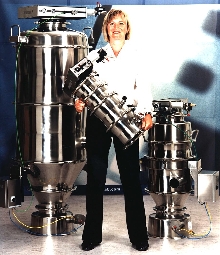 Vacuum conveyors, available with diameters of 21 and 56 cm, deliver capacities of up to 5 metric tons per hour. As all integral components fulfill USDA requirements, systems also fulfill US FDA guidelines. Conveyors' modular construction allows them to be adapted to meet users' needs. They are manufactured using ASTM 316L steel and employ filters that trap particles as small as 0.5 µm. System employs noiseless pneumatic vacuum pump.
---
Original Press Release:
New Vacuum Conveyors Meet the Needs of Foodstuffs and Pharmaceuticals Sectors

Vacuum technology company Piab has been developing new vacuum conveyors. The development work is based on technology employed in the company's vacuum conveyor, C33. It was the first vacuum conveyor to satisfy the requirements of the US Department of Agriculture (USDA). The new conveyors, available in varying sizes, are developed to meet the same criteria and every component is approved by the USDA.

Piab reports that further development of vacuum conveyor systems will aim to satisfy the needs of companies within the foodstuffs and pharmaceuticals sectors for transport of powders and granules. The new conveyors will deliver capacity of up to five metric tons per hour.

"Because all integral components fulfill the USDA requirements, the systems automatically fulfill the US Food and Drug Administration (FDA) guidelines," says Ellinor Bjork, product manager at Piab.

The conveyors, which are of modular construction, can be adapted to meet the customer's needs. They are manufactured using ASTM 316L, a special grade of steel used in the foodstuffs and pharmaceuticals industries. The filter in the conveyors can trap particles as small as 0.5 µm, and where necessary the conveyor can also be equipped with an HEPA (High Efficiency Particulate Air) filter.

According to the company, the conveyors are designed so that they are easy to install and easy to disassemble for cleaning.

Because there are few moving parts in the conveyors, they require minimal maintenance and few replacement parts. Vacuum transport affords dust-free transport of materials because it is carried out in a closed system. The heart of the system is Piab's noiseless pneumatic vacuum pump. When the first conveyor was introduced two years ago, the company reported that its design improved capacity by 25% without affecting energy consumption.

"Pneumatic technology enables intermittent operation of the vacuum pump, which saves energy," says Ellinor Bjork. "Moreover, unlike electrical vacuum pumps, pneumatic vacuum pumps do not produce any heat."

The new conveyors have diameters of 21 cm and 56 cm and supplement the previous 33 cm diameter design.

For more information, please contact:

PIAB USA, Inc., Mike Tuohey

65 Sharp Street, HINGHAM, MA 02043, USA

Tel. +1 781 337 73 09, fax +1 781 337 68 64

E-mail: info@piab.com

Website: www.piab.com

More from Material Handling & Storage