Vacuum Conveyors meet 3-A sanitary standards.
Press Release Summary: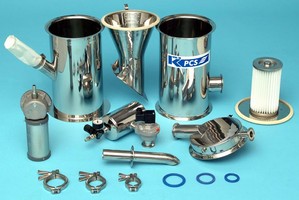 K-Tron PCS P-Series, which includes models P10, P30, and P100, are certified to 3-A Sanitary Standard No. 39-00 for Pneumatic Conveyors of Dry Milk and Milk Products. Conveyors utilize dense phase vacuum conveying technology and feature 316 stainless steel product surfaces, free of any pits or crevices, with 0.05 mm mirror finish. Rubber gaskets withstand cleaning and bacterial treatment, and permanent joints are continuously welded.
---
Original Press Release:

K-Tron PCS P-Series Vacuum Conveyors Meet 3-A Sanitary Standards



PITMAN, NJ (December 20, 2005)-The K-Tron Process Group has recently announced that K-Tron PCS P-Series vacuum conveyors were re-certified for 2006 by the 3A Symbol Council to meet the requirements of the 3-A Sanitary Standard for Pneumatic Conveyors for Dry Milk and Milk Products, Standard Number 39-00. The very high standards of the 3-A Symbol Council were originally designed for the dairy industry, but are broadly used by many manufacturers of ingestible products in the food and pharmaceutical industries. While the standard is an optional one, an increasing number of food and pharmaceutical manufacturers are requesting equipment that meets the 3-A standard.

The standard K-Tron PCS P-Series vacuum conveyors meet the 3-A standard, hence no additional sanitary features need to be added to the base units for 3-A applications. P-Series models P10, P30 and P100 all meet the rigorous 3-A specification. Lab tests have shown that K-Tron PCS P-Series vacuum receivers can convey skim and full-fat milk powder without damage using dense phase vacuum conveying technology.

Key specifications that these vacuum conveyors had to meet for 3A include product surfaces of 300 series stainless steel (PCS P-Series use 316 grade), rubber gaskets that conform with 3-A standards and can withstand cleaning and bacterial treatment, product contact surfaces at least as smooth as a Number 4 ground finish--150 grit or better-- free of any pits or crevices (P-Series are mirror finish 0.05 mm) and, permanent joints continuously welded. Conveyors are designed so that all product contact surfaces can be easily cleaned and inspected.

All fans and blowers must be installed in a manner that precludes entrance of air contaminants; the air supply system and ducting must be designed to cause all of the air to pass through air filters properly installed before coming into contact with product contact surfaces. K-Tron PCS P-Series filters are PTFE coated with stainless steel housings.

For more information, contact the K-Tron Process Group, Routes 55 and 553, Pitman, NJ 08071. Phone +1 856-589-0500. Fax +1 856-589-8113. In Europe, contact K-Tron Switzerland, Industrie Lenzhard, CH-5702, Niederlenz, Switzerland, Phone +41 62 885 71 71, Fax +41 62 885 71 80. Send e-mail to info@ktron.com, or visit K-Tron's Web site at www.ktron.com

More from Communication Systems & Equipment