Vacuum Concentrator uses IR heat to speed evaporation process.
Press Release Summary: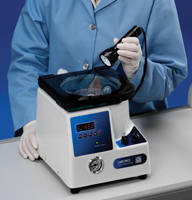 Featuring personal-sized, portable design, CentriVap micro IR has Teflon®-coated aluminum rotor that holds 24 1.5-mL microcentrifuge tubes and transparent infrared glass lid that directs heat over samples to speed evaporation and minimize cross-contamination from condensation. Heater, rated at 300 W, functions in IR, IR and Heat, or Heat Only with temperatures from 95-140°F in 0.1° increments. Teflon-coated diaphragm pump provides 160 mBar ultimate vacuum and 5.5 lpm displacement capacity.
---
Original Press Release:

New CentriVap® micro IR Vacuum Concentrator Uses Infrared Heat to Speed Sample Evaporation Process



The CentriVap micro IR Vacuum Concentrator has the smallest footprint available so it fits in tight spaces and is ideal for small throughput in molecular biology, proteomics, genomic, genetics, cell biology and drug discovery labs. Weighing only 20 pounds, this personal-sized concentrator may be easily transported from lab to lab.

Everything about the CentriVap micro IR includes many features. Its transparent infrared (IR) glass lid directs heat over the samples to speed evaporation and reduce cross contamination from condensation. The Teflon-coated aluminum rotor holds 24 small 1.5ml microcentrifuge tubes, but 4 other rotors for different sized vials are available. Microprocessor-controlled programming runs time either continually or in hours and minutes from 0 to 99 hours and 0 to 59 minutes. The 300-watt heater functions in IR, IR & Heat, or Heat only with temperature ranges from 35°C (95°F) to 65°C (140°F) in 0.1 degree increments. Also included is a Teflon-coated aluminum chamber and a built-in Teflon-coated diaphragm pump with ultimate vacuum of 160 mBar and displacement capacity of 5.5 liters/minute. There is a built-in 75ml glass trap, an analog vacuum gauge, and a CentriZap micro IR strobe light to view samples while the rotor is spinning.

This petite concentrator has everything needed to start concentrating-just plug it in and begin processing. For more information on the CentriVap micro IR Vacuum Concentrator, call Labconco at 800-732-0031 or visit www.labconco.com.

More from Agricultural & Farming Products