Vacuum Cleaner System counters combustible dust.
Press Release Summary: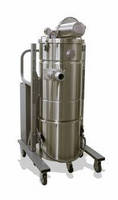 Featuring explosionproof, single venturi design, Model SS-35L EX is constructed of 304 stainless steel with detachable recovery tank and polyliner bag that provides safe disposal of recovered contaminated dusts. HEPA filters capture 99.995% of debris, down to and including 0.3 microns. Pneumatically operated system comes in 2 versions: Manual Filter Shaker or Manual Reverse Purge (with cartridge), both of which are available with Teflon® coat, with ground continuity.
---
Original Press Release:

Pneumatically Operated SS-35L EX Vacuum Cleaner System a Critical Piece of Equipment to Counter Combustible Dust



Ideal for housekeeping procedures involving the recovery of combustible dust, Tiger-Vac's explosion-proof single venturi SS-35L EX now features an upgraded cart and powder coated tool basket. The SS-35L EX's stainless steel 304 build has a detachable recovery tank and comes equipped with a polyliner bag that provides safe and easy disposal of recovered contaminated dusts. HEPA filters provide a capture of 99.995% of debris, down to and including 0.3 microns and are manufacturer guaranteed. All HEPA and ULPA filters are Aerosol leak tested (as per IEST-RP-CC001.3) before leaving our facility.

Two (2) versions of the SS-35L EX are available: (MFS) Manual Filter Shaker or (MRP) Manual Reverse Purge (with cartridge). Both filter media can be purchased with a Teflon® coat, with ground continuity. Designed for applications where finely pulverized dusts have to be recovered. A dry recovery only model, the SS-35L EX can also be equipped with an interceptor, for the recovery of highly conductive metal dusts. Applications include: grain, flour and food processing, pharmaceuticals and dry chemical fabrication, plastics and more.

"Intrinsically safe" for non-electrical devices?

Claims to the effect that "pneumatically (air) operated (...) are intrinsically safe" make us raise an eyebrow...and yet, it is used by many manufacturers! For starters, an air-operated vacuum cleaner does not have electrical components. Everyone should agree on this. Intrinsic safety is a method of protection which allows electric equipment to be certified for use in hazardous locations. In North America, there is no existing certification process pertaining to non-electrical equipment destined for use in hazardous locations. Approvals for intrinsic safety cannot be obtained for non-electrical equipment, which are not regulated.

Real safety comes from choosing explosion-proof vacuum cleaners that are legally-certified and indicated for use in Class I, Group D and Class II, Groups E, F and G for hazardous locations. Legal certification by an accredited Nationally Recognized Testing Laboratory (NTRL) certifies only on the presence of the equipment in hazardous locations. A vacuum cleaner is therefore legally-certified for use in a specific location, not for the safe recovery of materials.

Only the manufacturer of explosion-proof vacuum cleaners can clearly state that his equipment can safely recover (or not) any hazardous/ toxic or designated substances. Tiger-Vac has developed guidelines and the Ex-Mat Recovery crest, stating that its explosion-proof vacuum systems are guaranteed capable of safely recovering combustible/ conductive dusts and/ or flammable liquids. No one else in the industry goes beyond the standard for consumer safety.

About Tiger-Vac Inc.

Manufacturer of specialized vacuum cleaners designed for specific industrial applications, Tiger-Vac has over 40 years experience and an unmatched commitment to the safety of your workers and your work environment. Recognized as an industry leader, Tiger-Vac offers a complete line of explosion proof/ dust ignition proof vacuum cleaner systems for the recovery of combustible and flammable materials, vacuum systems with manufacturer certified HEPA and ULPA filters for cleanroom applications and contamination-controlled environments and vacuums for all heavy-duty applications in hazardous locations, such as metalworking, powder coating, aerospace and the food industry.

Vacuums are available in both electric or pneumatic (air) operated versions. Customized vacuums are also available. Our selection of application-specific accessories, such as overhead cleaning devices, carbon activated filter cartridges and dustless sanding equipment will comply with OSHA regulations and NEC, NFPA standards, while providing outstanding suction performance. ISO 9001: 2008 certified, IECEx, CSA and ATEX certified, we pride ourselves on the expertise we have developed to answer the ever changing needs of our customers. For more information on our complete line of products and to learn more about industrial vacuum cleaners, visit our website: www.tiger-vac.com

Remember: at Tiger-Vac, safety has no compromise!


More from Controls & Controllers