Vacuum Capacitor Switch provides 50,000 open/close cycles.
Press Release Summary: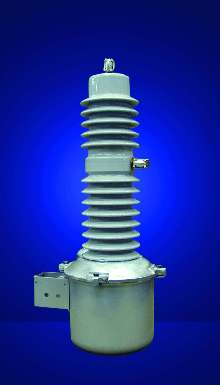 VerSaVac can switch 27 kV ungrounded and 38 kV grounded capacitor banks using vacuum interrupter in conjunction with Joslyte(TM) solid insulation system. Pressure equalization system ensures that moisture and contamination will not enter switch over lifetime. Solenoid-driven operating mechanism can operate with as low as 80 Vac and provides synchronized switching, reducing recovery voltage when bank is being switched off.
---
Original Press Release:
Versavac Distribution Capacitor Switch Now Available for Use at 27kV Ungrounded and 38kV Grounded Applications
The VerSaVac, which has been the industry leading vacuum capacitor switch for the past 15 years, is now available for switching 27kV ungrounded and 38kV grounded capacitor banks. The VerSaVac uses a long-life vacuum interrupter in conjunction with the proprietary Joslyte(TM) solid insulation system to provide a truly maintenance-free device specifically designed for the rugged duty of capacitor switching. The VerSaVac also incorporates a field-proven pressure equalization system to ensure that moisture and contamination will not enter the switch over its life. The VerSaVac has the longest life of any distribution capacitor switch with the ability to provide 50,000 open and close cycles. The solenoid driven operating mechanism can operate with as low as 80 VAC and provides synchronized switching (less than 4 mS between all poles.) This reduces the recovery voltage when the bank is being switched off, which in turn reduces the electrical stress on the insulation of the capacitor bank. The VerSaVac can be used in conjunction with the Joslyn Zero Voltage Closing Control which mitigates transients associated with bringing capacitor banks online. The ZVC control eliminates costly customer equipment damage and downtime resulting from voltage spikes. The VerSaVac can also be used with Fisher Pierce capacitor controls ranging from solid-state single function controls to state-of-the-art microprocessor based programmable units. Joslyn Hi-Voltage is an industry leader with over 80 years of innovation and world-class products and technology support for electric utilities and industrial power systems. Joslyn Hi-Voltage produces reclosers, sectionalizers, capacitor switches and controls, transfer switches, disconnect switches, and load break interrupter attachments. JHV also manufactures Fisher Pierce products including capacitor controls, faulted circuit indicators, current sensors, and SmartLink communications equipment. Joslyn Hi-Voltage and Fisher Pierce are subsidiaries of the Danaher Corporation, a Fortune 500 company. Please visit our website www.joslynhivoltage.com or call (800) 621-5875 for more information. For more information contact: Patty A. Kozlow Ph (216) 377-2246 Fax (216) 341-3615 patty.kozlow@joslynhv.com
More from Electrical Equipment & Systems