Vacutherm Vacuum Ovens features analog display.
Press Release Summary: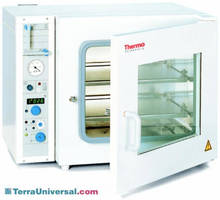 Working along with a lab's vacuum pump, Vacutherm's Vacuum Ovens gently dry sensitive samples in inert climate. Presented in 12 L, 53 L and 129 L capacities, ovens prevent oxidative contamination in pharmaceuticals or food. Double-paned safety-glass doors prevent damage from external pressure. Available as Jacket-heating oven with Kelvitron microprocessor, and Shelf-heating model with Digicon multi-channel controller.
---
Original Press Release:
Heating and Drying Ovens Offered by Terra Universal
Vacutherm™ Vacuum Ovens manufactured by Thermo Fisher Scientific work with your lab's vacuum pump to gently dry sensitive samples in an inert climate. Three capacities (12 L, 53 L and 129 L) of Vacutherm are now available on Laboratory-Equipment.com. Drying cycles using vacuum are up to six times faster than convection ovens due to more efficient heat transfer. The inert environment prevents oxidative contamination in samples such as pharmaceuticals or food.

Vacutherm's safety-glass doors are double-paned to prevent damage from external pressure. Most models come with an inert gas connection with precision valve and over-pressure safety valve that automatically releases gasses. Pressure levels can be viewed via an analog display.

Two types of Vacutherm ovens are available. The Jacket-heating oven features a Kelvitron microprocessor with a maximum temperature of 200°C (392°F). The Shelf-heating model comes with a Digicon multi-channel controller that can set different temperature levels on individual shelves within the enclosure. Its highest temperature is 300°C (572°F) or 400°C (752°F) with an optional upgrade. Also add shelves and stainless steel or aluminum trays.

Laboratory-Equipment.com, a Terra Universal brand, offers hundreds of top-tier laboratory instruments and supplies. Learn more about the Vacutherm Vacuum Ovens from Thermo Fisher Scientific by visiting Laboratory-Equipment.com.


Contact:

Evan Messenger
Terra Universal: Marketing
Phone (714) 578-6000
Evan@TerraUniversal.com
More from Materials