V-ECO Shredder Controls Optimized For North America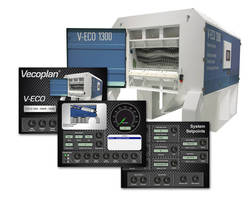 Vecoplan LLC has reengineered the control panels on their V-ECO shredder series, optimizing them for the North American market. Dubbed REV 11C, the new panels incorporate features derived from customer feedback. According to Luke Peoples, Manager – Vecoplan Integrated Controls, "Our focus in the redesign was four-fold: to ensure safety, ease of use, performance, and upgradeability for our U.S. Canadian customers."



UL CUL listed, REV 11C panels meet Safety Category 3 and Performance Level D standards. Operated through HMI (Human Machine Interface) touch screens, intuitive function controls are extremely user-friendly. Equipped with PowerFlex® 525 & 755 variable frequency drives, the panels also incorporate a Complete Ethernet Communication Suite maximizing communication speed between drives and PLC. This also enables quick and easy reprogramming or reconfiguring through one external connection port. Upgraded to CompactLogix Control Processors®, the new control panels can be quickly and easily integrated into existing plant wide automation systems.



Mechanical innovations on V-ECO shredders include: Variable Frequency Inverter Drives, "W" Rotors Embedded with 5 Rows of Cutters, Single or Double Rows of Bed Knives, Gas Shock Assist Drop Down Screen Carriages, Hydraulic Lift-Up Cutting Chamber Floors, and Externally Adjustable Cutting Tolerances.



Variable Frequency Inverter Drives eliminate gearboxes and fluid couplings, sense tramp metal and stop automatically, match rotor speeds and torque to load volume and material tenacity.



"W" Rotors are equally suited for flexible and fibrous, or rigid and bulky materials. The optimized cutting geometry delivers processing precision, particle size consistency, maximum throughput, and minimizes heat generation.



Single or Double Rows of Bed Knives increase the shredding surface area to produce smaller particle sizes which maximizes screen throughput volumes and minimizes processing time.



Drop Down Screen Carriage, with Gas Shock Assist, makes screen changes fast and easy. Plus delivers quick access to the rotor for cutting insert rotations or replacements, as well as other routine maintenance.



Hydraulic Lift-Up Cutting Chamber Floor provides the safest, quickest and most convenient access to the cutting chamber. Just push a button for clean-outs, material changes or tramp metal removal. No bolts, no alignment, no problems.



Externally Adjustable Bed Knives allow for fast and easy maintenance of cutting efficiency, particularly on thin, flexible materials such as films, synthetic fibers and veneers.



For more information visit www.VecoplanLLC.com, contact

[email protected]

or call 336-861-6070.