V-Coated Aspheric Lenses provide less than 0.25% reflection.
Press Release Summary: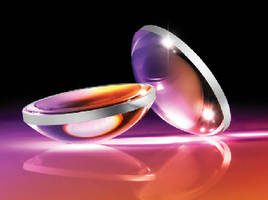 Beginning as TECHSPEC PCX Lenses, TECHSPEC Best Form Aspheric Lenses are polished into aspheric form using state-of-the-art QED MRF Q22-Y Aspheric Polisher. Units produce diffraction-limited spot sizes at design wavelength — suited for focusing or collimating applications. Available in 12 different 25 mm diameter models, lenses offer focal lengths of 25, 50, 75, and 100 mm with focal length specification wavelengths of 532, 633, and 1,064 nm.
---
Original Press Release:

Edmund Optics Offers Sphere to Asphere Modification Service to Speed Time to Market



TECHSPEC® Best Form Aspheric Lenses offer optimized performance at designated wavelengths



Barrington, N.J. - Edmund Optics® (EO), the premier provider of optical components, introduces its new TECHSPEC® Best Form Aspheric Lenses. These aspheric lenses are TECHSPEC PCX Lenses that have been modified to offer high performance at specific wavelengths.



TECHSPEC Best Form Aspheric Lenses begin as TECHSPEC PCX Lenses that are polished into an aspheric form using a state-of-the-art QED MRF (Magnetorheological finishing) Q22-Y Aspheric Polisher. This transformation is completed without modifying the surface characteristics of the lens, including surface accuracy and quality. However, unlike the pre-existing PCX lens, TECHSPEC Best Form Aspheric Lenses produce diffraction-limited spot sizes at the design wavelength - ideal for focusing or collimating applications.



TECHSPEC Best Form Aspheric Lenses offer V-coated lenses with <0.25% reflection



RoHS compliant TECHSPEC Best Form Aspheric Lenses are V-coated to provide <0.25% absolute reflection at the focal length specification wavelength. The lenses are available in twelve different 25 mm diameter models. TECHSPEC Best Form Aspheric Lenses are offered in focal lengths of 25 mm, 50 mm, 75 mm, and 100 mm. Focal length specification wavelengths of 532 nm, 633 nm and 1064 nm are available. TECHSPEC Best Form Aspheric Lenses are in-stock and available for immediate delivery for fast turnaround and excellent value. Custom diameters and coatings at your required wavelength are also offered to create an aspheric lens that meets your needs.



Innovative Modification Service Speeds Time to Market

Edmund Optics' sphere to asphere modification service reduces lead time and cost by modifying a stock PCX lens, rather than submitting a fully custom request. This in turn, significantly simplifies imaging system prototyping by only producing the number of aspheres that a customer requires. To learn more about this service, contact us today!



About EO:

Edmund Optics® (EO) is a leading producer of optics, imaging, and photonics technology for R&D, electronics, semiconductor, pharmaceutical, biomedical, and military markets around the globe. EO is the world's largest supplier of off-the-shelf optical components. Customers can purchase items by contacting EO at 1-800-363-1992, via the catalog, or via the website at www.edmundoptics.com



Company Contact:

Kirsten Bjork-Jones

Director Global Marketing Communications

Edmund Optics®, Inc.

101 East Gloucester Pike

Barrington, NJ 08007 U.S.A.

Phone: 1-800-363-1992

Fax: 1-856-573-6295

email: kbjork-jones@edmundoptics.com



European Contact:

Agnes Huebscher

Director European Marketing

Edmund Optics

Zur Giesserei 8

76227 Karlsruhe, Germany

Tel.:   +49 (0)721-62737-38

Fax:   +49 (0) 721 6273750

E-Mail:   AHuebscher@edmundoptics.de

More from Electrical Equipment & Systems