V-Belt Pulley Torque Sensor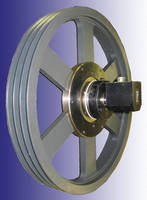 V-Belt Pulley Torque Sensor:  Model 01319



This unique pulley torque sensor was designed to replace an existing V-belt pulley wheel used in an HVAC application.  By modifying the existing pulley, and integrating a torque sensor, we were able to successfully adapt it to the HVAC machine (see photo below), and allow the customer to accurately measure the amount of power transferred from the electric motor to the driven blower.  This particular sensor is capable of accepting various pulley wheels and shaft diameters and features a highly accurate integrated sensing element, capable of resolving low torque levels while being exposed to high radial loads created by V-belt drive system. 



This sensor can also be adapted to a wide range of belt drive systems and as well as being installed in dynamometer test stands or on-vehicle.  Please contact Sensor Developments Inc for further information at 248-291-3000 or sales@sendev.com.

More from Fasteners & Hardware