V-Band Couplings for Filter and Exhaust Applications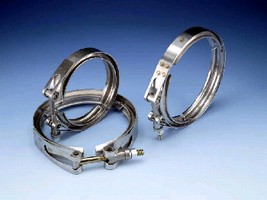 Wadsworth, OH (August 2006) Clampco Products, Inc., a Wadsworth-based manufacturer of stainless steel T-bolt clamps and V-band couplings, offers its line of V-band couplings to original equipment manufacturers in the heavy duty filtration and exhaust markets. Clampco's V-band couplings are engineered to meet the exact specifications for each product application.

The V-band couplings, also called V-band clamps, are well suited to filtration and exhaust applications because they can be installed and removed quickly, offering quick and easy access to joints for initial assembly and future maintenance. The products include 300 series stainless steel bands and retainers along with hardware that has temperature ratings from 800-1200 degrees Fahrenheit. Current Clampco retainer profiles mate with the most common flange dimensions. However, if customers have a unique profile, Clampco will engineer a new product to ensure a leak-proof joint.

Clampco's expertise in dealing with new product designs make it the component supplier of choice for manufacturers looking for design assistance and quick delivery. For example, many diesel particulate filter manufacturers are turning to Clampco when designing new products. Clampco provides V-band coupling engineering expertise, a
high-quality, heavy-duty product, and fast turnaround times. Clampco offers rapid prototyping for such manufacturers, allowing them to move forward with product tests. Clampco also provides consistent, on-time delivery on production runs, which further helps customers with new product launches and subsequent consumer demand.

Clampco Products, Inc. is a leading manufacturer of high quality heavy-duty T-bolt band clamps and V-band couplings. Its products can be found wherever rubber hoses, plastic tubing, solid objects, or other parts must be fastened, joined, or securely connected. The company currently serves the industrial and commercial sectors in the automotive, truck, off-road, construction, filtration, material handling, marine, aerospace, and medical industries. Clampco also supplies many well-known international firms and is certified to ISO 9001:2000 with design. The office, production facility, and warehouse are located in a 54,000 square foot facility at 1743 Wall Rd. in Wadsworth, Ohio, where 90 well trained and qualified employees work two shifts per day.


More from Electrical Equipment & Systems