UXGA LCDs are suited for use in medical field.
Press Release Summary: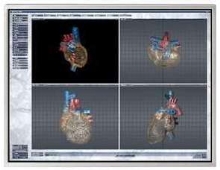 Models NL160120AC27-05 and NL160120AM27-06/06A are 21.3 in. ultra-extended graphic array (UXGA), amorphous silicon TFT LCDs that utilize SA-SFT technology to offer 170° viewing angle and contrast ratio greater than 10:1. Color model NL160120-AC27-05 features direct, back-light system with 450 cd/m² brightness, while monochrome models NL160120-AM27-06/06A feature 1800 cd/m² brightness. Both incorporate switchable 10-bit internal LUT for customizable gray-scale setting.
---
Original Press Release:

NEC LCD Technologies' High Luminance 21.3-Inch UXGA LCDs Suitable for Medical Use


Tokyo, Japan, Apr. 15, 2005 - NEC LCD Technologies, Ltd. today announced that sample shipments of 2 kinds of its new 21.3-inch (54cm diagonal), ultra-extended graphic array (UXGA), amorphous silicon thin-film-transistor liquid crystal displays ("TFT LCDs"), part numbers "NL160120AC27-05" and "NL160120AM27-06/06A", will commence at the end of April 2005. These models are particularly suited to use in the medical field.

The main characteristics of the new models are as follows:

1. NL160120AC27-05

A) High Luminance

The combination of NEC LCD Technologies' own unique super-advanced, super-fine TFT ("SA-SFT") technology, and a high-intensity, direct, back-light system achieve a brightness of 450cd/m2, the highest brightness level in the UXGA and above class of color TFT LCDs. This color LCD module boasts enough brightness to be utilized for radiogram interpretation and can be used for a combination of purposes including image diagnosis requiring high-brightness and smooth grey-scale, and viewing of picture archiving and communication systems ("PACS") that require use of a color screen in order to display various images from a range of medical tests and instruments such as endoscopes, ophthalmoscopy, and ultrasound equipment.

B) High Color Separation

This module is equipped with a switchable 10-bit internal look-up-table ("LUT"), which makes it possible to customize gray-scale setting, enabling selection of the most suitable 16.77 million colors out of 1.06 billion.

C) Wide Viewing Angle

SA-SFT technology, which is based on an in-plane switching ("IPS") mode, fulfills the vital prerequisites of medical image diagnosis on LCD monitors by enabling an ultra-wide viewing angle of 170 degrees (contrast ratio greater than 10:1) and reducing the color and/or contrast shift problem that occurs due to a change in viewing angle. It also allows stable color display with little, if any, influence on viewing angle difference for multi-screen use.

2. NL160120AM27-06/06A

A) High Luminance

The combination of NEC LCD Technologies' own unique super-advanced, super-fine TFT ("SA-SFT") technology, and a high-intensity, direct, back-light system achieve a brightness of 1800cd/m2, the highest brightness level in the UXGA and above color class. This brightness level is exceeded in the case of image diagnosis with X-ray film on a light box. In addition, if the level of brightness is suppressed, stable brightness levels can be preserved over a long period of time.

B) High Grade Grey-Scale Performance

Each pixel consists of three sub-pixels, and each sub-pixel controls 256 grey-scales individually. In addition, the LCD module is equipped with a switchable 10-bit internal LUT, which makes it possible to customize gray-scale setting. This model thus enables selection of the most suitable 766 grey-scales per pixel out of 3,061 grey-scales, and also achieves smooth adjustment of gamma characteristics.

C) Wide Viewing Angle

SA-SFT technology, which is based on an in-plane switching ("IPS") mode, fulfills the vital prerequisites of medical image diagnosis on LCD monitors by enabling an ultra-wide viewing angle of 170 degrees (contrast ratio greater than 10:1) and reducing the gamma shift problem that occurs due to a change in viewing angle. It also allows stable color display with little, if any, influence on viewing angle difference for multi-screen use.

Recently, the use of LCD devices in the medical field has spread rapidly. Our LCD modules equipped with our proprietary SFT technology, which enables reproduction of high quality images and an ultra-wide viewing angle, are enjoying high acclaim in the medical field having been adopted widely by many medical equipment manufacturers worldwide.

NEC LCD Technologies has responded to these needs by expanding its line-up of monochrome and color LCDs, and will continue to develop advanced technologies to meet the greater and more sophisticated needs of its customers in a variety of fields worldwide.

About NEC LCD Technologies, Ltd.

NEC LCD Technologies, Ltd. is one of the world's leading providers of high-quality, innovative, active-matrix liquid crystal display (AM-LCDs) modules for the industrial and high-end monitor markets. The company focuses its development on three core technology areas: ultra-wide viewing angle SFT technology, with high luminance and fast response; transflective NLT technology; and adaptive design technology that meet a variety of specialized needs for the flat panel display markets. NEC LCD Technologies' worldwide support includes sales and marketing affiliates NEC Electronics America, Inc. (www.necelam.com) and NEC Electronics Europe (www.nec.de) that offer specialized display solutions to their respective markets. NEC LCD Technologies employs approximately 1,200 people worldwide and offers one of the broadest product portfolios for the medical, factory automation, test and measurement, entertainment, kiosk, POS and ATM markets.

For further information, please visit the NEC LCD Technologies, Ltd. home page at: nec-lcd.com.

Contact
Diane Foley
Nec Corporation
For: NEC LCD Technologies
d-foley@ax.jp.nec.com
+81-3-3798-6511

More from Chemicals & Gases