UV/Vis Sterilizer fosters sustainability in packaging industry.
Press Release Summary: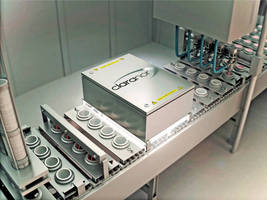 Applicable to new and existing packaging lines, Claranor pulsed-light sanitation system promotes chemical-free, water-saving sanitation of caps, cups, lids, and films. Pulse of full spectrum light, emitted from xenon lamp, destroys microorganisms through photochemical effect of UV spectrum and photothermal effect of flash of visible spectrum. Each pulse lasts .3 msec, so packaging material does not absorb heat. System can treat up to 25 caps/sec, depending on cap size and configuration.
---
Original Press Release:

Improved Sustainability Drives Interest in Pulsed-Light Sanitation of Caps, Cups, Lids, and Films in the Packaging Industry



Fowler Products and French-firm Claranor are expanding support for the pulsed-light sanitation market in North America. (See pulsed-light sanitation solutions at the Fowler Products Pack Expo 2012 Booth #3906)



Athens, GA — To accommodate the North American packaging industry's growing interest in the chemical free, water saving Claranor pulsed-light sanitation process for caps, cups, lids, and films, Fowler Products and Claranor are expanding their resources in the North American Marketplace to address the growing requirements for Pulsed Light Sterilization. (The Claranor pulsed-light technology will be in the Fowler Products Pack Expo 2012 Booth #3906)



Until the recent development of Claranor pulsed-light sanitation systems, products requiring caps, cups, lids, and films such as juices, flavored waters, extended-shelf-life milk and other dairy-based products were sanitized with peroxide-based chemicals, a process that also ultimately consumes copious amounts of water. With the growing realization that peroxide-based processes are not sustainable in the long-run for a number of social, environmental, and business reasons, interest is building for a clean, low energy, and overall small environmental-footprint alternative such as pulsed light.



"Since becoming the North American distributor for the Claranor pulsed-light system, it's become evident that the packaging industry is hungry for a new, more sustainable solution to existing chemically based sanitation methods for packaging materials and that an increased market development effort needed to be implemented," said Andy Monroe, Sales and Marketing Manager, Fowler Products. "Because the process is fundamentally different from chemical sterilization, there is considerable work to be done to streamline the transition to this new, more environmentally sound solution."



Fowler and Claranor collaborated to place a French engineer at Fowler as a dedicated resource for pulsed light market development in North America. Matthias Weber is a graduate of the Engineering School of Life Sciences ISARA in Lyon, France.  He holds a Master's of Science Degree with a Specialization in Innovation Management and Business Development.



"My goal is to build the infrastructure and speed the adoption of this innovative and sustainable new solution," Weber said. "This effort certainly is in line with North American goals for improved food safety."



Background on the Claranor pulsed-light sterilization system

The Claranor system, which utilizes an intense pulse of full spectrum light emitted from a xenon lamp, destroys microorganisms through the photochemical effect of the ultraviolet (UV) spectrum and the photothermal effect of the intense flash of the visible spectrum. Using Claranor pulsed light for sanitizing caps is many times more effective than systems based upon continuous UV light. In a challenge test with Aspergillus niger fungus, spray inoculated at 5.3 105 colony forming units (CFU) per object, one flash of the Claranor pulsed light system resulted in a 5.1 log reduction and total decontamination after two flashes. Each Claranor light pulse lasts only three tenths of a millisecond so the packaging material itself does not absorb heat. For example, the system can treat up to 25 caps per second with throughput varying by size and configuration of cap.



Claranor pulsed light sanitizing can be applied to new as well as existing packaging lines. Claranor units require less floor space than chemical sanitizers. The cost of electricity to run the system is less than the amount companies spend on chemicals. Water costs and consumption will be reduced as well. The pencil-sized bulb is guaranteed for a minimum of 10 million flashes with several caps being treated with each flash.



Watch a video about the Claranor system and download a white paper. For more information on Claranor pulsed light sanitizing systems, call Fowler products at 1-877-549-3301 and visit www.FowlerProducts.com to learn more about the company's capping, cap handling, and bottle cleaning equipment. Attendees at Pack Expo 2012 are invited to the Innovation Stage in the Grand Concourse for a presentation on the Claranor pulsed-light system on October 31, 10-10:30 a.m.



About Fowler

Fowler Products was founded in Athens, Georgia, in 1952. The company has partnerships with Andre Zalkin CIE, Perrier Bottling Systems, and Claranor, all French companies. In 2000, Fowler became a division of the Pro Mach group of packaging companies. For more information on Fowler products, services, and contacts, please visit www.FowlerProducts.com.



About Pro Mach

Pro Mach, Cincinnati, Ohio, is a leading provider of integrated packaging products and solutions for food, beverage, household goods, pharmaceutical, and other diverse consumer and industrial companies. Through three business units and related divisions, Pro Mach provides equipment, training, installation, and parts in primary packaging, end-of-line packaging, and identification and tracking. www.ProMachInc.com

More from Architectural & Civil Engineering Products