UV Inspection Light exceeds ASTM E2297 requirements.
Press Release Summary: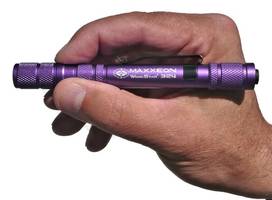 Offering cordless portability, WorkStar 2003 is designed for fluorescent magnetic particle and penetrant non-destructive testing. Unit features movable light head, instant-on, magnetic mounting capability, 2-level power selection, removable belt clip, and tripod mount capability. Exceeding ASTM E2297 requirements of 10,000 µW/cm², light is used by maintenance and quality control technicians in welding, casting, machining, oilfield, and chemical processing industries.
---
Original Press Release:
Maxxeon Inc. Announces New Ultraviolet (UV) Inspection Light for Welding, Castings and Machined Products
CLEVELAND, OHIO – Lighting tool manufacturer, Maxxeon Inc., has designed a new UV inspection light for non-destructive testing (NDT) that combines cordless portability with performance that exceeds ASTM E2297 requirements for intensity.

Maxxeon Inc. has introduced a new cordless tool for tool for fluorescent magnetic particle and penetrant NDT testing. This tool has been designed for use by manufacturing, maintenance and quality control technicians in the welding, casting, machining, oilfield and chemical processing  industries.

The company claims to have achieved exceptional versatility in their new WorkStar 2003 high output UV inspection light by integrating the new light with the features of the company's popular WorkStar 2000 work light. The new inspection light employs an advanced UV LED to deliver a tool with the following unique combination of features:

• UV light exceeds ASTM E2297 requirements of 10,000 µW/cm²
• Instant on – no warm-up period needed
• Cordless, rechargeable functionality
• Moveable light head
• Magnetic mounting capability
• Retractable hook for suspending
• Two level power selection
• Removable belt clip
• Tripod mount capability

The manufacturer has introduced this light primarily for use by NDT technicians, but according to company spokesperson Roger Britt, this product is also very effective for other uses:

• Locating leaks in air conditioning, coolant and hydraulic systems by fluorescing the dye in the system
• Locating leaks in filters in bag plant operations by fluorescing the UV reflective particles
• Forensics - crime site investigation
• Counterfeit detection
• Organic / Inorganic substance detection in hospitals, restaurants and other institutions

The Maxxeon WorkStar 2003 (part number MXN02003) is available from industrial supply houses and tool distributors across the US. More information about this product can be found here - http://www.maxxeon.com/uv_led_non_destructive_inspection_light_workstar_2003.html

Maxxeon is a designer and manufacturer of lighting tools for tradesmen and technicians.

Contact
John Schira
Maxxeon Inc.
15901 Industrial Parkway
Cleveland, OH 44135
Tel: 877-621-0005
Fax: 519-620-2011
Email: jschira@maxxeon.com
Web: www.maxxeon.com