UV Exposure Meter offers product-sensitive filtering.
Press Release Summary: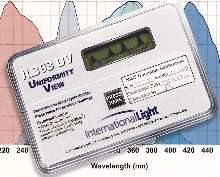 Able to specifically match product sensitivity to process, self-contained IL393UV Uniformity View acquires maximum irradiance at every point along curing paths to monitor process and provide graphic profiling. Filtering options are provided for sensitivity in UVA, UVB, UVC, UVA+B, and deep blue regions. Battery-powered instrument operates over dynamic range from 1 x 10
-3
to 20 w/cm² and is NIST traceable.
---
Original Press Release:
UV Exposure Meter Filtering Matches Product Sensitivity

A new series of filtering options for their UV exposure meter which can specifically match product sensitivity to the process is being introduced by International Light, Inc. of Newburyport, Massachusetts.

The IL393UV Uniformity View UV Exposure Meter is a compact, self-contained instrument that can acquire maximum irradianace at every point along a curing path to monitor the process and then provides graphic profiling. Featuring a new series of factory installed filtering options for optimum sensitivity in the UVA, UVB, or UVC, UVA+B, and deep blue regions, this process monitor lets operators precisely match the product sensitivity to the process.

Capable of performing total exposure, peak irradiance, irradiance profile, duration measurements, and run-time diagnostics, the IL393UV Uniformity View UV Exposure Meter can display quantitative and qualitative analysis of a process run by recalling a stored baseline run. Measuring only ½" thick, it is battery powered and operates over a wide dynamic range of 1 x 10-3 to an unmatched 20 w/cm² and is NIST traceable.

The IL393UV Uniformity View UV Exposure Meter is priced at $1,295.00 including a handy carrying case. Literature is available upon request.

For more information contact:

International Light, Inc.

Roy E. Grayzel, VP Sales & Marketing

17 Graf Rd.

Newburyport, MA 01950

(978) 465-5923 FAX (978) 462-0759

e-mail: ilsales@intl-light.com

www.intl-light.com


Related