UV Curable Epoxy Resin exhibits 2-3% shrinkage upon cure.
Press Release Summary: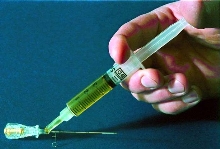 Suited for bonding, sealing, and coating, UV16 single-component, epoxy resin based polymer system bonds to plastics, glass, ceramics, and metals. Product is 100% reactive and does not contain any solvents or other volatiles. With operating temperature range of -60 to +300°F, resin has glass transition temperature over 125°C after post curing at 90 to 125°C for 30 min. It cures in thicknesses up to .125 in. and has viscosity of 120-150 cps.
---
Original Press Release:

New UV Curable Epoxy Resin Has Superior Physical Strength and Low Shrinkage


A new one component, high strength, low viscosity UV curable epoxy resin based polymer system for bonding, sealing and coating has been introduced by Master Bond Inc., Hackensack, N.J. This compound is called UV16 and exhibits a desirably fast cure rate at ambient temperatures upon exposure to UV light even in the presence of air. UV16 is tough, strong and durable. It has excellent bond strength to a wide variety of substrates including plastics, glass, ceramics and most metals. Impact strength is high - Gardner impact measurements exceed 320 inch #.

Master Bond UV16 is 100% reactive and does not contain any solvents or other volatiles. Shrinkage upon cure is 2-3%, substantially lower than that exhibited by most free radical types of UV curable compositions. UV16 has a service operating temperature range of -60°F to 300°F. Post curing the UV16 at 90°C to 125°C for 30 minutes will give it a glass transition temperature over 125°C, far higher than conventional type UV systems. The post curing is also effective in enhancing chemical resistance, particularly to acids and solvents.

Master Bond UV16 will cure in thicknesses up to .125 of an inch. It has a viscosity of 120-150 cps and is easy to apply. It is available for use in pint, quart, gallon and 5 gallon containers. It is also available in syringe applicators. Storage stability of UV16 is 6 months at room temperature in unopened containers.

For further information, please contact:

James Brenner, Marketing Manager
154 HOBART STREET o HACKENSACK, NEW JERSEY 07601-3922 o TEL: 201-343-8983 o FAX: 201-343-2132
Visit our WEBSITE at http:/www.masterbond.com Or E-Mail us at Main@Masterbond.com

More from Adhesives & Sealants