UV Beam Viewer shows laser characteristics.
Press Release Summary: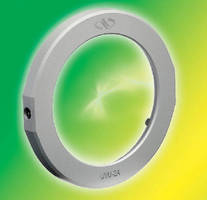 By placing Model UVU-2A into path of UV laser, beam characteristics such as laser mode structure, beam shape, and beam alignment can be observed. Optically clear glass of cleanroom-compatible viewer will glow white green when exposed to UV radiation. Featuring 48.3 mm aperture, thin 5 mm profile, and useful wavelength range of 193–355 nm, viewer is suited for Excimer lasers used in semiconductor manufacturing, micromachining, and eye surgery applications.
---
Original Press Release:

Newport Introduces Ultraviolet Beam Viewer



Irvine, CA – Newport Corporation, a worldwide leader in laser and photonic solutions that Make, Manage, and Measure Light®, introduces an ultraviolet (UV) beam viewer, the UVU-2A.  By placing this optically clear device into the path of a UV laser, beam characteristics such as laser mode structure, beam shape, and beam alignment can be easily observed. The optical glass of the clean-room-compatible UV beam viewer will glow white green when exposed to UV radiation.



Newport's UV beam viewer features a useful wavelength range of 193 – 355 nm and is ideally suited for the wavelengths of Excimer lasers commonly used in semiconductor manufacturing, micromachining applications, as well as in eye surgery. The robust UVU-2A housing provides threaded #8-32 and M4 holes to enable use as a wand or to be mounted on a bench using Newport's standard posts. With its thin 5 mm profile, the UV beam viewer can be easily inserted into even the tightest optical setups. The large, 48.3 mm, clear aperture allows the user to readily capture the beam on the optic.



According to Anna Sansan Wang, Newport's optics product manager, "Newport's new UV beam viewer is a perfect choice to visualize the beam characteristics of UV lasers for both research and industrial applications."



For more information on the new UV beam viewer, please visit  www.newport.com/UV-Beam-Viewer.



About Newport Corporation

Newport Corporation is a leading global supplier of advanced-technology products and systems to customers in the scientific research, microelectronics manufacturing, aerospace and defense/security, life and health sciences and precision industrial manufacturing markets.  Newport's innovative solutions leverage its expertise in high-power semiconductor, solid-state and ultrafast lasers, photonics instrumentation, sub-micron positioning systems, vibration isolation, optical subsystems and precision automation to enhance the capabilities and productivity of its customers' manufacturing, engineering and research applications.  Newport is part of the Standard & Poor's SmallCap 600 Index and the Russell 2000 Index.



Company Contacts:

Pete Neely

Director, Marketing Communications

Tel: 800-222-6440 / +1 949-863-3144

E-mail: pete.neely@newport.com



Anna Sansan Wang

Optics Product Manager

Tel: 949-437-9849

E-mail: anna.wang@newport.com

More from Printing & Duplicating Equipment