UV-Based System deters illegal in-facility smoking.
Press Release Summary: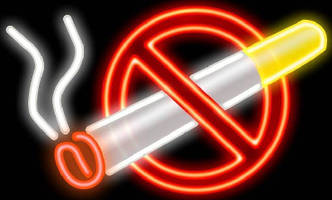 Suited for buildings in cities and states where it is illegal for employees to smoke, CatchaSmoker series uses UV flame detector technology to catch smokers in offices and factory bathrooms. Technology detects smoker lighting up and alerts management, either with loud alarm or totally silent/stealth alarm, via building-wide paging system. Installation can be accomplished by regular maintenance staff in less than 1 hr per location.
---
Original Press Release:

Got Smokers? Catch Them Lighting Up with the CatchaSmoker Product Line



Catching smokers in office and factory bathrooms can be huge challenge today. We all know the smell of a smoker lingers long after the smoker has left the room. These lingering smells annoy many of us who are forced to use the same bathrooms and in many cities and states, it is illegal for your employees to smoke anywhere in your building. Now New Technology can help you stamp out smoking in your facilities.

The CatchaSmoker product line of Amjo Corp offers a cost effective solution. The system "sees" the smoker lighting up and then alerts management typically with a loud alarm or if needed a totally silent/stealth alarm alerting through a building wide paging system.

Sophisticated fire detection systems for many years have been designed to trigger an alarm when the detection system detects the presence of UV (Ultraviolet) light. Unique devices called UV Flame Detectors continually "look" at their environment and are "blind" to most sources of infrared and visible light, the trick is to only detect and sense UV light which is the signature of fire. The CatchaSmoker system being introduced by Amjo Corp takes advantage of this technology and helps you control smoking in your facility.

Installation is easy and is normally done by your own maintenance staff in less than an hour or so per bathroom. This proven technology has been available in other forms for many years, al we've done is applied it to one of the most annoying problems in some plants today.

For detailed information, please visit www.CatchaSmoker.com

Company Information:

Amjo Corp in Cincinnati Ohio is an internet based distributor with a penchant for health oriented systems. Amjo has been on-line supporting customers throughout the world since 1998 and now has done business in nearly forty countries and 40,000 customers worldwide.

Name: Amjo Corp
Address: PO Box 8304,
City: Cincinnati,
State: OH
Zip: 45069-8304
Phone: 800-887-4218
http://www.amjo.net

Chris Cane
AMJO CORP
PO Box 8304
West Chester, OH 45069
T: 513-942-2770
F: 513-942-2771
chris@cane.com

More from Communication Systems & Equipment