UV-8509R - UV Curable Plastic Bonding Adhesive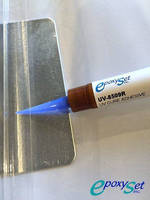 UV-8509R is a non-sag, fast curing urethane acrylate that bonds well to engineered plastics and metal substrates. This product requires direct UV exposure during cure. Because of the variability of different UV light sources it is suggested that the user test and specify UV intensity and exposure time. This material is specially formulated to have reduces surface tack due to oxygen inhibition.



UV-8509R bonds extremely well to many engineered plastics including PET, ABS, PVC, Lexan, and Ultem. Common applications for UV-8509R include PET clam shells and connector seals. This adhesive cures to a hardness of Shore D-50 and has an elongation of 200%. UV-8509R is recommended for use in operating temperatures of -50°C to 100°C. UV-8509R is available in variable size syringes as well as in bulk gallon and 5-gallon pails.



Epoxyset is a custom formulator and manufacturer of engineered epoxy, urethane, silicone and grease systems for the electronic, medical, semiconductor, optics, automotive and aerospace industries. We specialize in unique custom formulations.  Call us at 401-726-4500 to discuss unique solutions for any engineering application.



More from Architectural & Civil Engineering Products