UTM Firewall provides SMBs with variety of interface options.
Press Release Summary: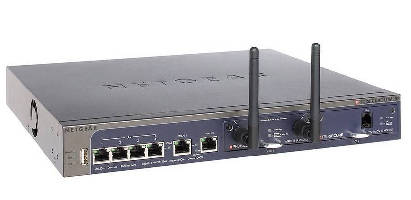 With 2 slots that fit optional interface cards, NETGEAR ProSecure® UTM25S enables IT administrators to custom-tailor firewall to connectivity requirements. Unit delivers Internet security as well as high-speed Internet access through built-in Ethernet ports, optional VDSL modem, or 3G USB dongle. Recommended to support up to 25 users, unit also offers wireless-N AP module. Device provides application control/application firewall, anti-malware from email/web browsing, and spam/content filtering.
---
Original Press Release:

NETGEAR Debuts More Powerful Version of Popular VDSL Application Firewall



-ProSecure UTM25S firewall provides SMBs with interface options and greater scalability for advanced security features



New Delhi, India: – NETGEAR® (NASDAQGM: NTGR) (www.netgear.com), a global networking company that delivers innovative products to consumers, businesses and service providers, has introduced the NETGEAR ProSecure® UTM25S Unified Threat Management Firewall. As the newest addition to the NETGEAR UTM S series of firewalls, the ProSecure UTM25S provides two modular slots that fit optional interface cards, enabling IT administrators to custom-tailor the firewall to their specific connectivity requirements. In addition, like other members of the ProSecure UTM family of security appliances, the UTM25S integrates with NETGEAR ReadyNAS® network-attached storage systems, giving businesses almost unlimited activity log and quarantine capacity for forensic, regulatory and legal requirements.



As the second entry in the NETGEAR ProSecure UTM S product line, the UTM25S — like its predecessor, the UTM9S, the best-selling appliance in the ProSecure line — delivers comprehensive Internet security as well as high-speed Internet access through a choice of WAN connections- built-in Ethernet ports, an optional VDSL modem module, or a qualified 3G USB dongle. It also offers a wireless-N access point module and is a best-in-class UTM firewall gateway recommended to support up to 25 users. Targeted at small and medium businesses and remote/branch offices looking to make the move from a standard firewall to a UTM application firewall solution, the ProSecure UTM25S significantly extends the security of a network without the normally associated vendor complexity or costs.



In general, traditional all-in-one solutions claiming to provide enterprise-grade security protection have incorporated batch-based methods to scan incoming high-latency data, which can slow Web browsing to a crawl. To address this, many of these solutions attempted to overcome this challenge by scanning only a select few malware file types, or by avoiding Web scanning altogether, which opened up networks to malware-based attacks. NETGEAR ProSecure UTM S solutions address this issue with the patented Stream Scanning platform, which analyzes data streams as they enter the network.



"Because of the always increasing amount of latency-sensitive Web traffic, combining enterprise-grade security into a traditional all-in-one firewall platform has proven a daunting challenge," said Peter Newton, senior director of product management for the Commercial Business Unit of NETGEAR. "We developed the UTM25S as a direct result of customer feedback. It fills a strategic gap for customers that require all of the features of our UTM9S appliance, but have a higher volume of Internet traffic to manage."



Joining the existing 9S SKU in the UTM S series of appliances, the UTM25S expands on the numerous protections that the UTM series offers, to better ensure network health and productivity. Key features provided by the UTM25S include an application control/application firewall, anti-malware from email, anti-malware from web browsing, and spam and content filtering. It offers an SPI firewall and VPN tunnels using either IPSec or SSL. The UTM25S also features multi-WAN capability for load balancing and failover connectivity, with options including Ethernet, DSL, or 3G — even 4G/LTE when paired with a NETGEAR Mobile Broadband Router (MBR1515 or MBR1517).



Pricing and Availability:

The NETGEAR ProSecure UTM25S is available at a starting price of Rs. 68,000/- along with a lifetime warranty.



More Information

The NETGEAR ProSecure UTM series uses patented Stream Scanning Technology, which analyzes data streams as they enter the network against a full malware signature library – offering maximum protection with minimum latency. NETGEAR ProSecure UTM appliances have won top ratings in reviews from SC Magazine, PC Pro and IT Pro, and significantly outperformed UTMs from Fortinet, SonicWALL, Cisco, WatchGuard and ZyXEL in third-party testing. To learn more about the ProSecure UTM25S, please visit: http://netgear.com/business/products/security/UTM-series/default.aspx.



About NETGEAR, Inc.

NETGEAR (NASDAQGM: NTGR) is a global networking company that delivers innovative products to consumers, businesses and service providers. For consumers, the company makes high performance, dependable and easy to use home networking, storage and digital media products to connect people with the Internet and their content and devices. For businesses, NETGEAR provides networking, storage and security solutions without the cost and complexity of big IT. The company also supplies top service providers with retail proven, whole home solutions for their customers. NETGEAR products are built on a variety of proven technologies such as wireless, Ethernet and Powerline, with a focus on reliability and ease-of-use. NETGEAR products are sold in approximately 25,000 retail locations around the globe, and through approximately 40,000 value-added resellers. The company's headquarters are in San Jose, Calif., with additional offices in over 25 countries. NETGEAR is an ENERGY STAR® partner. More information is available at www.NETGEAR.com or by calling (408) 907-8000. Connect with NETGEAR at twitter.com/NETGEAR and http://www.facebook.com/NETGEAR.



©2012 NETGEAR, Inc. NETGEAR, the NETGEAR logo, ReadyNAS, and ProSecure are trademarks and/or registered trademarks of NETGEAR, Inc. and/or its subsidiaries in the United States and/or other countries. Other brand names mentioned herein are for identification purposes only and may be trademarks of their respective holder(s). Information is subject to change without notice. All rights reserved.

More from Materials