Utility Vehicle is suited for light industrial applications.
Press Release Summary: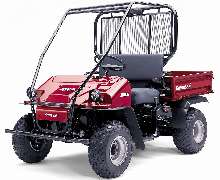 MULE(TM) 550 features bench seat, automotive-type controls, tilting cargo bed, and is powered by 286 cc single-cylinder, air-cooled, four-stroke industrial engine. Vehicle also features spin-on oil filter, dual-element air cleaner, visible battery, electronic ignition, and comes with large-volume muffler with USFS approved spark arrestor. With 882 lb vehicle load capacity, it can carry 350 lb in cargo bed and can tow 900 lb with optional tow hitch.
---
Original Press Release:
Kawasaki MULE(TM) 550 Utility Vehicle
Exceptional versatility and dependability at an unbeatable price The MULE(TM) 550 is Kawasaki's smallest utility vehicle, but its reputation for dependability and affordability have made it one of the best selling utility vehicles in the industry. Built for both off-road work and recreation, the MULE 550 utility vehicle shares many design features with its larger MULE 3000-series siblings, including a bench seat, automotive-type controls, a tilting cargo bed and a host of accessories available through Kawasaki MULE dealers. The MULE 550 is powered by a durable 286cc single-cylinder, air-cooled, four-stroke industrial engine that features an air intake located high in the cab frame in order to draw from the cleanest, driest and coolest place for strong performance and less maintenance. Other maintenance-saving features include a spin-on oil filter, dual-element air cleaner, visible battery and electronic ignition. Plus, the MULE 550 comes equipped with a quiet, large-volume muffler with a U.S. Forest Service (USFS) approved spark arrestor. The four-stroke engine is matched to the Kawasaki Automatic Power-Drive System, Kawasaki's continuously variable transmission, which features forward and reverse gears. Power is delivered through dependable shaft drive to a dual-mode differential that can be "locked" for maximum traction or unlocked to minimize ground disturbance when making tight turns. The engine for the MULE 550 utility vehicle produces plenty of power to haul most load requirements in light commercial, industrial or farming applications. An 882-pound vehicle load capacity allows it to carry more than 350 pounds in the tilting cargo bed, and it can tow up to 900 pounds with an optional Kawasaki tow hitch. The MULE 550 has extra-large front mud flaps to provide plenty of splash protection for the occupants sitting on the wide, two-person bench seat. The seat has separate bottom and back cushions, hip restraints on each side and seat belts for two. Plus, the forward/neutral/reverse shift lever is conveniently located beside the seat within easy reach. Other features include light and accurate rack-and-pinion steering, four-wheel suspension and four-wheel brakes. Plus, the bench seat flips up, allowing easy access to the fuel tank and engine air cleaner. Those who want to customize their MULE 550 can choose from a vast array of accessories available through Kawasaki MULE dealers. Consumers can also purchase accessories through the Internet at www.buykawasaki.com. Kawasaki Motors Corp., U.S.A., (KMC) markets and sells at wholesale Kawasaki motorcycles, ATVs, JET SKI® watercraft, MULE(TM) utility vehicles, power products and small engines. Kawasaki's tagline, Let the good times roll(TM), is recognized worldwide for the spirit of fun, adventure and high performance that characterizes the Kawasaki recreational vehicle line. Kawasaki product lines are sold through a network of more than 1,500 independent retailers. The company and its affiliates employ nearly 2,400 people in the United States, with approximately 400 of them located at the Irvine, California headquarters. KAWASAKI MULE(TM) 550 UTILITY VEHICLE Features and Benefits: ·Durable 286cc single-cylinder, air-cooled, four-stroke industrial engine has proven performance and reliability. ·Kawasaki Automatic Power-Drive System with forward, neutral and reverse gears makes operating the MULE 550 simple. ·Dual-mode differential can be "locked" for maximum traction or unlocked to minimize ground disturbance. ·Dependable shaft drive is quiet and requires minimal maintenance. ·Rack-and-pinion steering is light and accurate. ·Full suspension provides a smooth ride yet can handle heavy cargo loads. ·Four-wheel brakes provides abundant stopping power. ·Cargo bed can carry more than 350 pounds. ·With an optional Kawasaki tow hitch, it can tow up to 900 pounds. ·Muffler comes with USFS-approved spark arrester. MULE(TM) 550 UTILITY VEHICLE SPECIFICATIONS
Engine Four-stroke, single-cylinder Displacement 286cc Bore x stroke 78 x 60mm Carburetor Mikuni BV24-18 Cooling Forced air Ignition Transistorized electronic Drive train Kawasaki Automatic Power-Drive System (KAPS) automatic torque converter; forward, neutral, reverse Final drive Dual-mode rear differential Wheelbase 66.2 in. Overall length 103 in. Overall width 50.9 in. Overall height 70.5 in. Ground clearance 6.3 in. Tires, front/rear Tubeless 22 x 9-10/tubeless 22 x 11-10 Suspension, front/rear Independent A-arms with adjustable shock absorbers/Unitized swing-axle with shock absorbers Brakes, front/rear Four-wheel hydraulic drums Turning radius 10.5 ft. Load capacity 882 lbs. Bed capacity 353 lbs. Towing capacity 900 lbs. Dry weight 785 lbs. Fuel capacity 4.2 gal. Instruments/lighting Hour meter, (2) 35-watt sealed-beam headlights, (2) 5/21-watt taillight/stoplight Colors Aztec Red, Hunter Green
Wholesale distributor Kawasaki Motors Corp., U.S.A. 9950 Jeronimo Road Irvine, California 92618 (949) 770-0400 www.kawasaki.com
More from Materials