Utility Vehicle combines diesel power with modern styling.
Press Release Summary: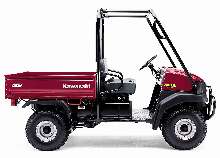 Offered with pickup truck styling, MULE(TM) 3010 Diesel 4x4 is powered by liquid-cooled, 953 cc, 3-cylinder diesel engine and incorporates Kawasaki Automatic Power-Drive System (KAPS) continuously variable transmission. Ladder-type frame rides on De Dion rear leaf-spring suspension and incorporates MacPherson struts, rack-and-pinion steering, and 4 hydraulically operated, self-adjusting drum brakes. Vehicle carries up to 1,100 lb and tows up to 1,200 lb.
---
Original Press Release:
Kawasaki MULE(TM) 3010 Diesel 4X4 Off-Highway Utility Vechicle
Kawasaki MULE flagship features diesel power and modern styling The Kawasaki MULE(TM) 3010 Diesel 4x4 is the flagship of the MULE utility vehicle line and is designed for those who want modern, "pickup truck" styling combined with the torque and fuel economy of a diesel engine. The MULE 3010 Diesel 4x4 utility vehicle features the rugged grille, headlights and rounded fenders of its 3000-series siblings. Body panels of the cab are made of durable, color-infused plastic to help hide scuffing, and the front hood of the MULE 3010 Diesel can be lifted with the touch of a button to reveal a large storage space, which also has convenient D-rings to secure cargo. Located beneath the front grille are winch-ready tabs for easy winch mounting, and a passenger-side grab rail is mounted on the cab frame. Plus, two lever latches make opening and closing the tailgate easy. The MULE 3010 Diesel 4x4 powerplant is a liquid-cooled, 953cc three-cylinder diesel engine that produces high torque at low engine rpm. Air for the engine is drawn through an intake located at the top of the cab frame and passes through a cyclone-type air cleaner. The diesel engine is matched to the Kawasaki Automatic Power-Drive System (KAPS) which features high and low range, plus reverse. This dependable continuously variable transmission has been modified for 2004 with redesigned torque converters that improve heat dissipation and durability, a larger, more durable belt, and a new cover that increases cooling air flow to the system, resulting in better acceleration, especially in steep inclines. KAPS is combined with dependable, low-maintenance shaft drive to transmit power to a dual-mode rear differential that can be "locked" to maximize traction, or unlocked to minimize ground disturbance when making tight turns. The operator can also select four-wheel drive for extra pulling power in muddy conditions. Controls on the MULE 3010 Diesel 4x4 are also easy to operate. The high/low-range, forward/reverse shift lever and the lever for selecting four-wheel drive operation are placed within easy reach on the dash. The coolant temperature warning light is easy to see, and a push-button control activates the headlights. Other standard features include an hour meter, fuel gauge and horn. The chassis of the MULE 3010 Diesel 4x4 is a ladder-type frame that rides on a De Dion rear leaf-spring suspension designed to carry heavy loads yet provide a smooth ride when the cargo bed is empty. MacPherson struts handle front suspension duties, while rack-and-pinion makes steering light and maneuverable over rough terrain. Four hydraulically operated, self-adjusting drum brakes that are sealed to protect from water, mud and other debris provide stopping power, and 23-inch tires provide a comfortable ride and maximum traction over a variety of surfaces. The MULE 3010 Diesel 4x4 utility vehicle can carry up to 1,100 pounds in its steel cargo bed and can tow up to 1,200 pounds. Other standard features include a 5.3-gallon fuel tank, spin-on oil filter and a United States Forest Service-approved spark arrestor in its muffler. Those who want to customize their MULE 3010 Diesel 4x4 can choose from a vast array of accessories available through Kawasaki MULE dealers. Consumers may also purchase accessories through the Internet at www.buykawasaki.com. Kawasaki Motors Corp., U.S.A., (KMC) markets and sells at wholesale Kawasaki motorcycles, ATVs, JET SKI® watercraft, MULE(TM) utility vehicles, power products and small engines. Kawasaki's tagline, Let the good times roll(TM), is recognized worldwide for the spirit of fun, adventure and high performance that characterizes the Kawasaki recreational vehicle line. Kawasaki product lines are sold through a network of more than 1,500 independent retailers. The company and its affiliates employ nearly 2,400 people in the United States, with approximately 400 of them located at the Irvine, California headquarters. KAWASAKI MULE(TM) 3010 DIESEL 4X4 UTILITY VEHICLE Features and Benefits: o Liquid-cooled, three-cylinder diesel engine produces incredible torque and exceptional fuel economy. Perfect for commercial job sites where diesel fuel is readily available. o Kawasaki Automatic Power-Drive System, Kawasaki's continuously variable transmission, features high and low ranges, plus reverse, giving the operator the right "gear" for every job and extra pulling power when needed. o Selectable four-wheel drive gives the operator extra traction in adverse conditions. Plus, the dual-mode differential can be "locked" for even more pulling power, or unlocked when traveling across delicate terrain. o Rear differential durability is improved for 2004, with a larger, 2.50mm-diameter pinion shaft, larger, 10mm ring gear mounting bolts, and more splines on the rear axle. o Rack-and-pinion steering is light and more precise. o MacPherson strut long-travel front suspension and De Dion rear suspension can handle heavy loads, yet provide a smooth ride when the cargo box is empty. o Four wheel drum brakes are self-adjusting and feature extra sealing for protection against mud, dust and debris. o Bench seat provides comfort for two. o The steel cargo bed can carry up to 1,100 pounds and tilts for quick unloading. o With an optional Kawasaki tow hitch, it can tow 1,200 pounds. o The muffler features a USFS-approved spark arrestor. MULE (TM) 3010 DIESEL 4X4 UTILITY VEHICLE SPECIFICATIONS
Engine Four-stroke, three-cylinder, overhead valve diesel Displacement 953cc Bore x stroke 72 x 78mm Compression ratio 24.8.1 Cooling Liquid Drive train Kawasaki Automatic Power-Drive System (KAPS) automatic torque converter; high/low range; forward, neutral, reverse Final drive Selectable four-wheel drive, dual-mode rear differential Wheelbase 73.6 in. Overall length 112.6 in. Overall width 57.5 in. Overall height 76.0 in. Ground clearance 6.9 in. Tires, front/rear Tubeless 23 x 11-10 Suspension, front/rear Independent, MacPherson strut-type/semi-independent/De Dion axle with leaf and coil springs and hydraulic shocks Brakes, front/rear Four-wheel sealed hydraulic drum Turning radius 11.2 ft. Load capacity 1,632 lbs. Bed capacity 1,100 lbs. Towing capacity 1,200 lbs. Fuel capacity 5.3 gal. Dry weight 1506 lbs. Instruments/lighting Parking brake warning light, coolant temperature warning light, horn, 12V DC outlet, (2) 5/21-watt taillight/brakelight, (2) 35-watt sealed-beam headlight, speedometer Colors Aztec Red, Hunter Green
Wholesale distributor Kawasaki Motors Corp., U.S.A. 9950 Jeronimo Road Irvine, California 92618 (949) 770-0400 www.kawasaki.com
More from Electrical Equipment & Systems