UTEL to Showcase Revolutionary Fast Light Technology at FTTH Conference 2015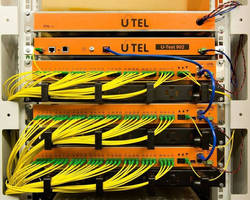 Technology is vital for realisation of phenomena like the Smart Home and Internet of Things, says MD



SUFFOLK, United Kingdom, and WARSAW, Poland – Delegates stopping by UTEL's stand at this year's FTTH Conference, in Warsaw, will be able to hear about the latest developments in the company's revolutionary Fast Light technology which the company's MD says is vital to move forward initiatives like the Smart Home and Internet of Things (IOT).



Despite fibre becoming more and more widespread for many networks across Europe and the rest of the world, for most it is still not possible to monitor status in real time. For most operators managing copper networks, it is also not possible to have reliable visibility all of the way into the customer premises.



UTEL uses Fast Light as the basis for a centralised G-PON fibre management system, which is the only existing technology in the world able to reliably detect ONT reflections through 128 split PONs without expensive wavelength dependent reflectors.



"Telecom service providers are looking for new ways to generate revenue and a big area of focus for them is smart applications," said Frank Kaufhold, Managing Director of UTEL. "Technology vendors are already building product ecosystems for this and phenomena like the Smart Home and Internet of Things are teetering on imminent prominence. The more customers rely on these technologies, the more they will notice when the service is disrupted and ultimately, network reliability will became more and more important."



Fast Light uses UTEL's revolutionary Advanced Reflection Detection (ARD) technology which sets a new global benchmark for OTDR performance and has the potential to greatly reduce the cost of building and operating fibre networks.



A range of other products for FTTH deployment will also be available at Booth B38 at this year's FTTH Conference which will take place in Warsaw, Poland, between Tuesday, February 10 and Thursday, February 12.



Among these products will be UTEL's innovative PTO 4, launched last year. Factory terminated with cables up to the length of 60 metres, the unit can serve between one and four outlets and saves service providers time and money by simplifying the FTTH installation process.



For more information see www.utel.co.uk or speak to a UTEL representative at Booth B38.



About UTEL

United Technologists Europe Limited (UTEL) is a founder owned UK limited company, incorporated in 1993 by two RD engineers Frank Kaufhold and Paul Grafton. Their ambitions were simple if idealistic: - They wanted to build a commercially successful RD focussed company without compromising their own ethical and environmental values and create an unconstrained working environment that would maximise innovative productivity.



Today UTEL has more than 50 employees in the UK, France and China with the majority directly focussed on RD and a turnover of 20 million Euros. All manufacturing and installation of UTEL's solutions is carried out by European subcontractors under the company's direct control. Unusually, this commercial success has been achieved purely through organic growth and internal reinvestment without outside financial support.



UTEL's key markets are Copper and Fibre Test Access Switches and testing solutions. The company's strength is its ability to innovate and create optimal solutions at lightning speed. UTEL's area of expertise covers a wide range of disciplines including analogue and digital electronics, mathematics, software, mechanical and production engineering and has recently been extended to cover civil engineering to enable the costs to be taken out of FTTC deployment.

More from Controls & Controllers