USV Thrusters feature built-in GPS.
Press Release Summary: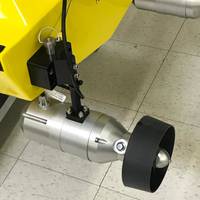 USV Thrusters have been professionally tested to withstand 300 meters of depth. Product comes with real-time kinematics and echosounders. Unit is equipped with Tritech Sub-bottom profiler and is suitable for penetrating the seabed. USV Thrusters are best used with i-750 catamaran.
---
Original Press Release:
Deep Ocean Engineering: New USV Thrusters
September 27, 2017–San Jose, CA – Deep Ocean Engineering will unveil a revised set of new thrusters, and they have been successfully tested. They are professional grade and have been tested to 300 meters of depth. Some optional features of the vehicle include a built-in GPS and equipped with real-time kinematics, measuring up to the sub-centimeter accuracy. Echosounders are also equipped for bathymetry. There is an innovative Tritech Sub-bottom profiler that is ideal for penetrating the seabed. To provide the most stable platform for high-resolution sensors, Deep Ocean recommends the i-1750 catamaran.
For more information, visit www.deepocean.com.