USM-3 Ultrasonic Bolt Meter Updates Faster for Data Recorders and Tool Controllers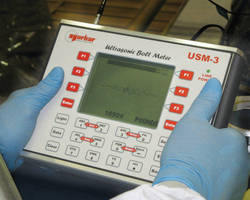 Willoughby, OH - The Norbar USM-3 Ultrasonic Bolt Meter now offers the capacity for even faster updates of fastener elongation and load than previously available for users in automotive, heavy equipment, engine, chassis, engineering and production teams desiring to collect and analyze data on torque or torque+angle and the relationship to bolt load over time. USM-3 is a precision instrument that measures the elongation and load of a tightened bolt, rather than friction-biased torque. The USM-3 reads elongation and load in almost any sized bolt, of any material and uploads the resulting data to Windows® PC's. This fast-update capability permits the hand-held USM-3 to more rapidly determine bolt load or elongation with lab data recorders and while actually tightening with powered tools.

Under normal operation, the USM-3 offers a 0-10 volt scalable analog output that works in parallel with the large (¼ VGA) display to streaming load or elongation updates at a rate of 50 Hz. Now, a single key stroke shifts the USM-3 into fast update mode, which shuts down the display and increases the streaming update rate to 150 Hz for analog signal interface with data recorders or tool controllers. The increased rate permits even more precise comparisons between torque, angle and load or elongation. Pigtail or customer application-specific cables are available.


More from Architectural & Civil Engineering Products