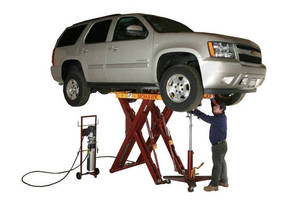 Mohawk's USL-6000 is portable 6' tall scissor lift. This patented lift offers full under-vehicle access for all under-car work, as well as tire & brake service at mid-height, or body shop estimates at full height.

Featuring all position mechanical & hydraulic safety locks, the 110 volt operated lift is easily moved by 1 person.

Whether it be narrow bays, shops with inadequate concrete floors, portability, or full under-car access (including transmission removal) the USL-6000 is the only full height, portable lift made.

For further information please contact Mohawk Lifts at 800-833-2006 or visit online at www.mohawklifts.com.