USB3.0 Connectors accommodate height-restrictive applications.
Press Release Summary: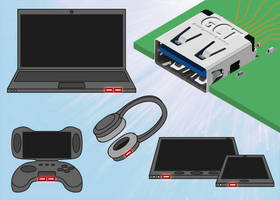 USB3.0 mid reverse connectors are designed for inclusion in such devices as tablets, notepads, and other handheld devices. Mid bottom mount USB3.0 connectors are available for low-profile applications where height above and below PCB is critical. Allow mounting on bottom of PCB, reverse connectors sit in cut out on PCB to minimize height. With cutaway face, USB1115 has .212 in. body height and suits angled panels. While USB1110 is mounted below PCB, bulk sits above PCB.
---
Original Press Release:

For Height Restrictive Applications New USB3.0 Mid Reverse Connectors are the Perfect Choice



With the nature of electronic design ever changing to offer devices that are both smaller and slimmer it's imperative that component manufacturers evolve connector technology in response.  For this reason Global Connector Technology (GCT) has introduced a new range of USB3.0 mid reverse connectors that are ideal for inclusion in devices such as tablets, notepads and other hand held devices.



In low profile applications where height above and below the PCB is key, GCT offers mid bottom mount USB3.0 connectors. USB3.0 full size connectors are mounted as standard on the topside of the PCB. GCT's innovative reverse connectors allow mounting on the bottom of the PCB, the connectors sits in a cut out on the printed circuit board thus minimizing height. Receptacle insulators have perfect orientation to allow normal cable assembly plug mating with USB symbol facing upwards.



USB1115 with cutaway face is perfect for angled panels, with an ultra slim .212" body height.

USB1110 is mounted below the PCB, while the bulk of the connector sits above the PCB. Both connectors are packed in tape and reel and are suitable for the demands of high temperature processes.



To speed up design downloadable drawings, 3D models and specifications are available from the GCT website.  Parts are in stock in your local GCT office for next day sampling.



Call today to discuss design requirements, or visit www.gct.co to see why GCT should be the supplier of choice for USB connectors.



About Global Connector Technology

Global Connector Technology (www.gct.co) is headquartered in Hong Kong and has sales and support locations in Hong Kong, North America and Europe. Part of a privately held group of companies, GCT has manufacturing locations in mainland China and a dedicated engineering team based in Hong Kong. GCT is enjoying rapid growth with its focus on expanding markets including handheld devices, computing, industrial, security, medical and consumer. GCT is an ISO9001 approved organization and its products are fully RoHS and Reach compliant.



GCT USA Contact details:

Global Connector Technology, Inc.

354 Merrimack Street

Building 1, Suite 262 

Lawrence, MA 

01843

Tel: +1 978 2081618

E-mail: sales@gct-americas.com

Web: www.gct.co



Issued by:

Pinnacle Marketing Communications Ltd

Green Park House

15 Stratton Street

London, W1J 8LQ

Tel: +44 20 8869 9339                       

Fax: +44 20 8868 4373

E-mail: i.jarrett@pinnaclemarcom.com

Web: www.pinnacle-marketing.com

More from Machinery & Machining Tools