USB Wall Plug Adapters meet Level VI standards.
Press Release Summary: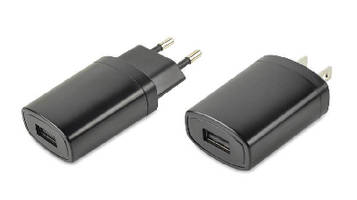 Featuring 2.56 x 1.42 x 0.89 in. footprint, 5 Watt Models SWI5-5-N-I38 and SWI5-5-E-I38 deliver 5 Vdc single regulated outputs with universal input voltage from 90~264 Vac. Both feature no load power consumption of <0.075 W and provide over voltage, over current, and short circuit protections. SWI5-5-N-I38 has input blades for North American and Japanese applications, while SWI5-5-E-I38 has European input blades. Applications include media players, e-readers, GPS, and other mobile devices.
---
Original Press Release:

Ultra-Compact 5 W USB Wall Plug Adapters Meet Level VI Standards



TUALATIN, Ore. — CUI Inc announces a line of ultra-compact 5 W wall plug adapters for the US, Japanese and European markets featuring an integrated USB connector. The SWI5-5-N-I38 and SWI5-5-E-I38 are designed to meet the stringent average efficiency and no load power requirements mandated by the US Department of Energy (DOE) set to go into effect on February 10, 2016. The new Level VI standards aim to significantly lower the amount of power consumed when the end application is not in use or is no longer connected to the system.  Any domestic or global manufacturer seeking to market their end product with an external adapter in the US must meet these new performance standards.



With a footprint as small as 2.56 x 1.42 x 0.89 inches (64.92 x 36 x 22.5 mm) these adapters are among the industry's smallest ac-dc power supplies to integrate a USB connector. The ultra-compact design makes it ideally suited for a wide range of consumer applications, including media players, e-readers, GPS and other mobile devices.



The 5 W adapters both feature 5 Vdc single regulated outputs with a wide universal input voltage range from 90~264 Vac. The series also features no load power consumption <0.075 W and provides over voltage, over current and short circuit protections.



Designed with input blades for North American and Japanese applications, the SWI5-5-N-I38 offers 60950-1 UL/cUL and PSE safety approvals while the SWI5-5-E-I38 with European input blades offers GS safety approvals. All models meet Class B limits for conducted and radiated emissions.



The new SWI5-5-N-I38 and SWI5-5-E-I38 are available immediately with prices starting at $5.36 per unit at 100 pieces through distribution. Please contact CUI (http://www.cui.com/contact) for OEM pricing.



For more information on the DOEs upcoming Level VI regulations, click here: http://www.cui.com/efficiencystandards



Summary

Product name: SWI5-N-USB, SWI5-E-USB

Availability: Stock to 12 weeks

Possible users: Consumer and mobile device designers

Primary features: Level VI efficiency, ultra-compact design

Cost: $5.36 per unit at 100 pieces



View details for the SWI5-N series: http://www.cui.com/product/power/ac-dc-power-supplies/external/wall-plug-in/us-blade/swi5-n-usb



View details for the SWI5-E series: http://www.cui.com/product/power/ac-dc-power-supplies/external/wall-plug-in/european-blade/swi5-e-usb



About CUI Inc

CUI Inc is a technology company focused on the development and distribution of electronic components. At the leading edge of power supply design, the organization supports customers as they strive to improve the energy efficiency and environmental credentials of their application.  The company's power group is complemented by a portfolio of world-class board level components, consisting of interconnect, sound, motion control and thermal products.  An unwavering commitment to create collaborative partnerships with customers and a drive to see that their design project is a success has been a hallmark of CUI's sustained growth since its founding in 1989.   As a leader in the industry, CUI will continue to invest in the future through new technologies, talented employees, expanded manufacturing capabilities, and a growing global reach.



CUI Inc is a subsidiary of CUI Global, Inc., a publicly traded company whose common stock trades on the NASDAQ Exchange under the symbol CUI.



Media Contacts

CUI Inc

Maggie Lefor, +1 503 612 2300, mlefor@cui.com, twitter.com/cuiinc

More from Controls & Controllers