USB Type-C Power Delivery Controller IC has all-in-one design.
Press Release Summary: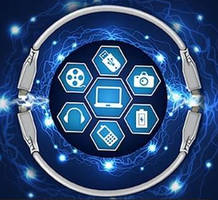 Providing full power path, TPS65982 operates as single- or dual-role port and enables various host and device power implementations. It can be combined with 5.4-Gbps HD3SS460 USB Type-C cross-point switch, which enables USB connectors on either end of cable to be flipped up/down, delivers up to 100 W, and supports alternate modes to distribute video over DisplayPort. For USB Type-C systems requiring up to 15 W, TUSB320 series provides USB Type-C configuration channel logic and port control.
---
Original Press Release:

TI Drives Toward a One-cable World with the First Integrated USB Type-C Power Delivery Controller in Volume Production



Integrated controller and other new devices support USB connectors with flip capability and two-way power delivery



DALLAS -- Texas Instruments (TI) (NASDAQ: TXN) today introduced the first all-in-one USB Type-C and USB Power Delivery (PD) controller, which integrates a port power switch and port data multiplexer. The TPS65982 USB PD controller is the only integrated circuit (IC) available that provides the full power path, operating as a Single- or Dual-Role Port and enabling a variety of host and device power implementations.



Experience the interactive Multimedia News Release here: http://www.multivu.com/players/English/70647529-texas-instruments-usb-type-c/



For applications requiring higher data rates, the TPS65982 can be combined with the 5.4-Gbps HD3SS460, the industry's first USB Type-C cross-point switch. This solution enables USB connectors on either end of the cable to be flipped up or down, delivers power up to 100 W, and supports Alternate Modes to distribute video over DisplayPort from the host to the end device.



For USB Type-C systems requiring up to 15 W of power, engineers can choose the TUSB320 family, the industry's first devices to provide USB Type-C configuration channel (CC) logic and port control. These devices make it possible for a system to detect the orientation of the plug, and determine the appropriate USB specification and mode settings for the end equipment. For more information on USB Type-C PD as well as TI's new devices, see www.ti.com/usb-c-pr.



One cable to replace many

The USB (Universal Serial Bus) interface standard is popular in smartphones and other personal electronics, as well as computers and peripherals such as printers. Using TI's new USB Type-C products, designers can deliver end equipment that frees consumers from needing multiple cables for various types of USB ports. Each of the new TI devices meets USB Type-C Specification 1.1 (Engineering Change Notice as of June 22, 2015) published by the USB Implementers Forum (USB-IF), of which TI is a long-standing participant. TI has a more than 20-year track record of providing high-performance USB-compliant products.



TI delivers the most complete host and peripheral solutions, with the performance and tools to bring USB Type-C products to market faster.



Key features and benefits of TI's new USB Type-C devices

--  Single USB PD controller delivers power and data in multiple modes: The TPS65982 integrated PD controller and power switch delivers both power and data in several Alternate Modes. The TPS65982 can operate as a Single- or Dual-Role Port (DRP) for power and can be configured to support data as a downstream-facing port (DFP); an upstream-facing port (UFP); or as both host and device, known as a DRP.

--  SuperSpeed switch transfers video data at low power: The HD3SS460 USB Type-C cross-point switch can support data rates up to 5.4 Gbps while offering standby power of 40 µW - more than 50 percent lower than competitive offerings - to extend battery life.

--  USB Type-C CC logic: The TUSB320 family supports USB 2.0, USB 3.1 and VCONN, giving designers the flexibility to use these devices in multiple USB-enabled designs. Its low shutdown power of 8 mW benefits a variety of battery-powered applications.



Tools and support for TI's new USB Type-C devices

Engineers can speed up their USB Type-C system designs with evaluation modules (EVMs), including the TPS65982-EVM (includes BoosterPack pin standard for TI's low-cost LaunchPad ecosystem) for US$29, the HD3SS460EVM-SRC for $149 and the TUSB320EVM for $99. These tools are available from the TI store and authorized distributors.



Designers can jump-start their design with the USB Type-C Dock reference design (TIDA-00630).



Engineers designing with USB Type-C can also search for solutions, get help, share knowledge, and solve problems with fellow engineers and TI experts in the TI E2E(TM) Community USB forum.



Pricing and availability

The TPS65982 is available in a 6-by-6-mm MicroStar Junior(TM) ball-grid array (BGA) package for US$4.99. The HD3SS460 is available in a 3.5-by-5.5-mm quad flat no-lead (QFN) package for $1.55 and the TUSB320 is available in a 1.6-mm-by-1.6-mm QFN package for $0.95. All pricing is in 1,000-unit quantities.



Learn more about TI's USB Type-C portfolio

--  Read a white paper on "Low-cost implementation of USB Type-C."

--  Read a white paper on "Transitioning from USB On-The-Go to USB Type-C."

--  Hear from our experts in our USB blog series.



About Texas Instruments

Texas Instruments Incorporated (TI) is a global semiconductor design and manufacturing company that develops analog ICs and embedded processors. By employing the world's brightest minds, TI creates innovations that shape the future of technology. TI is helping more than 100,000 customers transform the future, today. Learn more at www.ti.com.



Trademarks

MicroStar Junior and TI E2E are trademarks of Texas Instruments Incorporated. All registered trademarks and other trademarks belong to their respective owners.



CONTACT:

Tangie Tolbert

Texas Instruments

214-479-1624

t-tolbert@ti.com



Tara Stratton

Golin

972-341-2562

tstratton@golin.com



Related