USB-to-Serial Cable gives two serial ports for laptops.
Press Release Summary: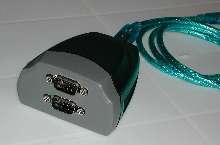 USB-2COM allows RS232 serial devices to talk to USB PCs. Based on FTDI's single chip FT232BM USB UART IC for transferring serial data over USB, 2-serial-port USB adapter is housed in plastic enclosure. It adds two Windows Serial Com ports via laptop's USB connection and is compatible with new and legacy RS-232 devices. It provides internal 128-byte transmit buffer FIFO, 384-byte receive buffer FIFO, and supports RS232 data transfer rates to 460 Kbps.
---
Original Press Release:

USB-To-Serial Cable Gives Two Serial Ports For Laptops.


Fairport, New York. USB-2COM is a ready-made cable solution for allowing RS232 serial devices to talk to newer USB PC's. The cost-effective USB-2COM is based on FTDI's single chip FT232BM USB UART i.c. for transferring serial data over the Universal Serial Bus. USB-2COM is a two-serial-port USB Adapter housed in a strong plastic enclosure and designed for rugged application areas. It adds two Windows Serial Com ports (Virtual COMports) via the laptop's USB connection and is compatible with new and legacy RS-232 devices. USB Plug-and-Play allows easy serial port expansion and requires no IRQ, DMA, or I/O port resources. Connection to USB is via the 0.9m detachable USB cable included.

Features

o Full set of RS-232 modem data and control signals (TxD, RxD, RTS, CTS, DSR, DTR, DCD, RI, and GND) on its PC-compatible DB9 male connector

o Internal 128 byte transmit buffer FIFO and a 384 byte receive buffer FIFO.

o Supports RS232 data transfer rates of up to 460K bps

o No external power supply is required

o Drivers for Microsoft Windows '98, Windows ME, Windows 2000 and Windows XP

o Drivers for Apple OS-8, OS-9 and OS-X

o Drivers for Linux

Many manufacturers of serial peripherals wish for a way to painlessly convert those products to USB. Using a dedicated USB microcontroller usually means extensive firmware development, as well as having to source or develop specific USB drivers for Windows '98/2000/xP and iMAC. Ready-made cables often have drivers which don't work everywhere. For older RS232 devices (and there are a lot of them: printers, barcode scanners, densitometers, and general serial products). USB-2COM cable solution with its royalty-free software drivers functions like a dream, and makes updating an old device a piece of cake - just ship the legacy device with an extra part - USB-2COM cable!

USB-2COM is available now from stock from $59 (qty 1) including free Windows '98/2000/xP, Linux and iMAC drivers from Saelig Company NY (585-425-3753; 585-425-3835fax; saelig@aol.com; www.saelig.com).

Further details: Alan Lowne. 585 425-3753 fax -3835

Saelig Company Inc, 1 Cabernet Circle, Fairport NY 14450

Or see www.saelig.com/news.htm

More from Mechanical Power Transmission