USB to RS232/422/485 Adapters come in rugged enclosure.
Press Release Summary: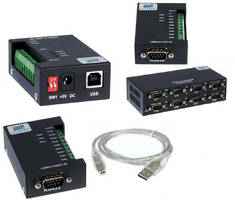 Rugged adapter modules allow legacy serial devices to interface with interconnect ports based on USB technology. Supporting max data rates of 1 Mbps for each port, USB2-H-100X-M series interfaces with RS232 level I/Os. Products of USB2-H-500X-M and USB2-H-600X-M series respectively interface with RS485 and RS422 level I/Os and support data rates to 8 Mbps per port. Supplied in metal enclosures, plug-and-play adapter modules come in 1-, 2-, 4-, 8-, and 16-port configurations.
---
Original Press Release:

EasySYNC Releases Hi-Speed USB to Multi-Port RS232/RS422/RS485 Industrial Adapters



Metal enclosure devices provide high performance serial connectivity in demanding industrial settings

EasySYNC Ltd, a specialist in USB communications and instrumentation systems, has introduced a new family of rugged, adapter modules. These products present a simple method for allowing legacy serial devices to interface with modern interconnect ports based on Universal Serial Interface (USB) technology.

The adapter products in this family are subdivided into three series. Those in the USB2-H-100X-M series are designed for interfacing with RS232 level I/Os and have the capacity to support maximum data rates of 1 Mbps for each port. While the adapters in the USB2-H-500X-M and USB2-H-600X-M series are for interfacing with RS485 and RS422 level I/Os respectively, both supporting data rates of up to 8 Mbps for each port.

Offered in single, dual, quad. 8 and 16 port configuration versions, each of the modules uses a standard USB-B device connector for attaching to an upstream host or hub port. All of them incorporate a USB 2.0 Hi-Speed bridge chip supplied by FTDI.

Each channel of the adapter modules in this family has an industry-standard DE-9P connector, with the single and dual port modules also incorporating 5 mm terminal block connectors per channel, as an alternative interface option. They are capable of supplying an output voltage of +5 VDC at currents levels of up to 80 mA on the 5 mm terminal block connectors or 30 mA on the DB9 connectors. Integrated transmitter and receiver LEDs provide a visual indication of data traffic passing through the modules.

These products are contained within metal enclosures allowing them to be utilized in harsh industrial environments. They have an operational temperature range that spans from -40 °C to +85 °C. All members of this family are fully compliant with both FCC Part 15 Subpart B and European EMC directive.

"EasySYNC's plug-and-play adapter modules mean engineers can benefit from functionality afforded by current computing hardware so that existing automation and industrial control systems can gain advanced functionality," states Susan Maxwell, General Manager of EasySYNC. "With these new, more robust additions to our product portfolio, the scope of application areas that can be supported is greatly expanded."

The new modules require USB device drivers to make them appear as Virtual COM Ports (VCPs). These drivers, which are available for Mac OS X, Linux Windows and Windows CE operating systems, can be downloaded free of charge from www.easysync-ltd.com/product-downloads

Unit pricing for the USB2-H-1001-M, USB2-H-5001-M and USB2-H-6001-M are $32.00, $39.00 and $41.50 respectively.

About EasySYNC
Established in 2001, EasySYNC Ltd is a supplier of communications and instrumentation products with specialist expertise in serial connectivity solutions based on USB, CAN and RS232/RS422/RS485 interfaces. The company's product range includes USB serial adapters, USB-to-CANBus adapters, USB-to-RS232 adapters, USB-to-RS422 adapters, USB-to-RS485 adapters, USB-to-Ethernet converters, USB based oscilloscopes, data loggers and logic analysers. EasySYNC Ltd has sales offices in Europe and North America. www.easysync-ltd.com


More from Architectural & Civil Engineering Products