USB to GPIB Hub Controller works with test instruments.
Press Release Summary: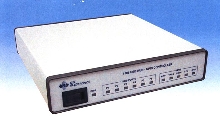 Model 1105 combines GPIB Controller and USB powered hub, making it possible to convert any desktop or portable PC with USB interface into full-function, IEEE 488.2 compatible Bus Controller. Supports Windows 98, ME, 2000, and XP and programming languages like Visual Basic and Visual C/C++. It has six powered USB ports for driving USB instruments or other USB devices. Unit can be rack mounted in 1U high space or used as stand-alone unit on bench.
---
Original Press Release:
New USB to GPIB HUB Controller

PLEASANTON, CA, April 5, 2002. Today ICS Electronics announced a new USB to GPIB Hub Controller for controlling test instruments with GPIB and USB interfaces. Designated the Model 1105, this new controller combines a GPIB Controller and a USB powered hub in the same unit. The 1105 converts any desktop or portable PC with a USB interface into a full-function, IEEE 488.2 compatible Bus Controller and is the first USB-to-GPIB Controller to include a USB Hub.

USB based instruments that comply with the IEEE-488.2 standard and meet the new USBTMC-USB488 specification will start to appear later this year. As users adopt these new USB based instruments, future test systems will include a mix of new USB instruments and older GPIB instruments.

The 1105 is designed to control test systems with mixed GPIB and USB instruments and expand the USB bus to other USB devices.

The Model 1105 Hub Controller has an upstream USB connector for connection to the user's PC.

The 1105 has an IEEE-488.2 compatible GPIB controller for controlling GPIB instruments. In addition, the 1105 has six powered USB ports for driving USB instruments or other USB devices. The 1105 is packaged in ICS's MiniboxT1f case (7 in x 7 in x 1.5 in) that can be rack mounted in a 1 U high space or used as a stand-alone unit on the bench. The 1105 uses a maximum of 18 VA of unregulated DC power when all six USB ports are drawing their full 500 mA of 5 Vdc power. The 1105 has been CE tested and approved for sale in Europe.

The 1105's 488.2 Driver supports Windows 98, ME, 2000 and Windows XP operating systems and Windows programming languages like Visual Basic and Visual C/C++. The 488.2 Driver provides all of the required 488.2 command and controller protocols. The Release 1 version of the Driver supports the National Instruments' 488.2 and original 488 command sets plus ICS's command set. It will run Visual Basic and C/C++ language programs written for either command set. The Release 2 version of the Driver will add VISA compatibility to run LabVIEW(TM) and Agilent VEE(TM) programs.

The 1105 includes an enhanced version of ICS's Keyboard Controller program for Windows 2000 and Windows XP. The Keyboard Controller program provides interactive control of GPIB devices from the computer keyboard without the user having to write a program. The Keyboard Controller program is the ideal utility program for testing the 1105 Controller, for exercising GPIB devices or for trying out device commands before using them in a program.

Delivery is stock to 3 weeks ARO. Pricing starts at $650 for 1 to 4 pieces and includes ICS's 488.2 Driver. There is a $50 promotional discount until Release 2 is available.

ICS Electronics is a pioneer and leader in the design and development of IEEE 488 Bus support products and has been supplying GPIB Controllers for over 20 years. ICS Electronics is a member of the USB Implementers Forum and the Model 1105 is ICS's second USB-to-GPIB Controller product.

ICS Electronics is headquartered at 7034 Commerce Circle. Pleasanton, CA 94588. Phone (925) 416-1000. Contact Jerry Mercola, Marketing Manager for more information.

Trademarks:
LabVIEW is a trademark of National Instruments, Austin, Texas
VEE is a trademark of Agilent Instruments, Palo Alto,
California Minibox is a trademark of ICS Electronics, Pleasanton, California

More from Plant Furnishings & Accessories