USB-to-CAN Adapters connect CAN bus devices to PC.
Press Release Summary: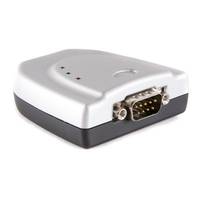 Powered directly from USB connection, both non-isolated USB2-F-7001 and USB2-F-7101 with built-in digital isolation enable connection of CAN bus devices to PCs via USB. Plastic enclosure features USB type-B socket, allowing adapter to be connected to Host type-A socket using provided cable. Both models integrate USB-to-FIFO interface IC, CAN controller, and CAN bus transceiver and are compatible with USB1.1 and USB2.0 Host and Hub ports for plug-and-play installation.
---
Original Press Release:
EasySYNC Introduces Tough, Bus-Powered USB-to-CAN Adapters
Plug-and-play connection of CAN bus devices to PCs via USB EasySYNC Ltd, a specialist in USB communications and instrumentation systems, has announced two new USB-to-CAN adapters that provide a fast and easy way to connect CAN bus devices to a PC via USB. The USB2-F-7001 is a non-isolated adapter, while the USB2-F-7101 features built-in digital isolation. Both devices are powered directly from the USB connection eliminating the need for an independent power supply. The new adapters are built into a tough plastic enclosure capable of operating throughout the industrial temperature range (from -40°C to 85°C). Flexible mounting allows use in a variety of applications, including as a portable adapter accompanying a laptop or for permanent installation in industrial and commercial locations. The enclosure features a standard USB type-B socket, allowing the adapter to be connected to a Host type-A socket using the cable provided. Each device integrates a USB-to-FIFO interface IC, CAN controller and CAN bus transceiver, and is compatible with USB1.1 and USB2.0 Host and Hub ports for easy plug-and-play installation. For the USB-to-FIFO interface IC, EasySYNC has chosen the FTDI FT245R featuring value-added capabilities such as FTDIChip-ID(TM) security and support for USB suspend/resume modes. The CAN bus signals are output to an industry-standard DE-9P connector conforming to the CAN-in-Automation (CiA) DS102-2 pin-out. Maximum CAN bus data rate is 1Mbps. Three coloured LEDs, in yellow, green and red, indicate link validity, operating status and error conditions using a variety of Blink, Flash, Off and On modes. EasySYNC can also provide USB device drivers that allow the adapter to appear as a Virtual COM Port (VCP). This enables communications using ASCII commands to the CAN controller. Additional USB device drivers can be employed with application software to directly access the FT245R. These can be used in conjunction with a CAN command Application Programming Interface (API) to allow the specific functionality for a given task to be provided. An API guide is also available directly from EasySYNC. The USB2-F-7001 has a unit price of $110.11 (PLEASE £INSERT GBP PRICING) and the USB2-F-7101 has a unit price of $165 (PLEASE £INSERT GBP PRICING). Both types are available immediately in limited quantities, and in high volumes starting January 2011. About EasySYNC Established in 2001, EasySYNC Ltd is a supplier of communications and instrumentation products with specialist expertise in serial connectivity solutions based on USB, CAN and RS232/RS422/RS485 interfaces. It product range includes USB serial adapters, USB-to-CANBus adapters, USB-to-RS232 adapters, USB-to-RS422 adapters, USB-to-RS485 adapters, USB-to-Ethernet converters, USB based oscilloscopes, data loggers and logic analysers. EasySYNC Ltd has sales offices in Europe and North America. www.easysync-ltd.com For further information and reader enquiries: Susan Maxwell, EasySYNC Ltd, 7235 NW Evergreen Parkway, Suite 600, Hillsboro, OR 97124-5803, USA Tel: +1 503 547-0909 Fax: +1 (503) 547-0987 E-mail: sales@easysync-ltd.com Issued by: Mike Green Pinnacle Marketing Communications Ltd Prosperity House, Dawlish Drive, Pinner, Middsx, HA5 5LN UK. Tel: +44 (0) 20 84296543 E-mail: m.green@pinnaclemarcom.com
More from Fluid & Gas Flow Equipment