USB Temperature Data Loggers target cold chain applications.
Press Release Summary: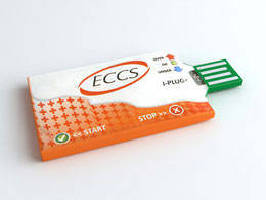 Intended for stand-alone temperature monitoring, I-Plug-Plus Data Loggers help protect perishable products in trucks and warehouses. Single-use units monitor temperature from -30 to +70°C with 0.5°C accuracy. Loggers provide 5,000 sample memory, 1-year battery life, and user-selectable sampling rate from 1 sec to every 24 hr. With LED status and alarms lights, users can see when product temperatures are OK, Below, or Over. Built-in USB interface enables connection to PC for downloading data.
---
Original Press Release:

CAS DataLoggers Offers New Cold Chain Temperature Recorder



Simple Inexpensive Recording for Transit, Cold Chain and Other Applications



CHESTERLAND OH— Increasingly, food processing and shipping companies face greater regulatory pressure to provide their own temperature recording and documentation and show proof of quality assurance and best practices. Now CAS DataLoggers and exciting new manufacturer Escort Cold Chain Solutions are teaming to offer businesses the I-Plug-Plus USB Temperature Data Logger, an inexpensive, easy to use solution for stand-alone temperature monitoring. These compact and portable temperature recorders help to protect perishable products in trucks, warehouses and anywhere else you need to keep tabs on your inventory. When you're done logging, just plug it into a PC, read it, and send the data online—simple!



Our new in-transit temperature monitoring solutions travel with product palettes and truck shipments and feature reporting and alarming capabilities to provide a quick way to check temperatures en route. Since unpredictable temperature changes make quality assurance during transportation a top priority, our I-Plug-Plus data loggers continually monitor your product while it's on the go and save you the hassle of having to manually monitor temperature for your sensitive goods.



The data logger's quick push-button start makes it easy to operate, and its bright LED status and alarm lights clearly show whenever your product's temperatures are OK, Below or Over. The built-in USB interface makes connection to a PC for downloading data a snap so you don't need a USB driver to use these recorders.



I-Plug-Plus data loggers use an internal sensor to monitor temperature from a -30°C to +70°C (-22°F to 158°F) range with an 0,5°C accuracy. The data loggers record temperature measurements at an accurate 0,25°C resolution. I-Plug-Plus recorders are perfect for fixed or in-transit monitoring applications, with their compact 7.5 x 4 x 0.5 size and light (15g) weight making them easy to place anywhere. The temperature logger's 5,000 sample memory and 1-year battery life enable extended trips, and sampling rate is user-selectable anywhere from 1 second to every 24 hrs. These single-use data loggers are recyclable with no accessories required, sold with a 1-year warranty, and are also available in certified food and pharma versions.



As an added value, I-Plug+ data loggers run on FREE software downloadable online. Our traceability portal helps you to track your data and improve data accessibility, making these data loggers a truly comprehensive solution to all your regulatory and quality assurance needs.



CAS Dataloggers has the most comprehensive selection of data logging equipment available anywhere.



Our data loggers are used in a wide variety of applications in remote monitoring, in industrial process and manufacturing industries, in pharmaceutical manufacturing and storage, and in almost every conceivable field and industry.



To get more information on our portable I-Plug-Plus USB Temperature Data Loggers, additional lowcost solutions for temperature monitoring, or to find the ideal solution for your application-specific needs, contact a CAS Data Logger Applications Specialist at (800) 956-4437 or visit the website at www.DataLoggerInc.com .