USB Serial Converters suit scientific laboratory research.
Press Release Summary: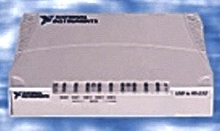 Serial converter models NI USB-232 and NI USB-485 allow engineers and scientists to connect to existing serial instruments using USB technology. NI USB-232 converters use RS-232 Serial protocol, while NI USB-485 models use RS-485 or RS-422 serial protocols. Both converters are available in 2- or 4-port configurations. Data throughput rates are rated to 230.4 kb/s (NI USB-232) and 460.8 kb/s (NI USB-485).
---
Original Press Release:

Connect to Serial Instruments through USB with New Serial Converters


NEWS RELEASE - July 23, 2002 - Engineers and scientists can seamlessly connect to existing serial instruments using widespread USB technology with two new high-speed USB serial converters from National Instruments. The serial converters expand NI's extensive instrument control offering so that engineers and scientists can connect to existing serial instrumentation systems through new computer bus technology.

The NI USB-232 and NI USB-485 serial converters transform a USB port into asynchronous serial ports for communication with serial devices. The NI USB-232 converter uses the RS-232 Serial protocol and the NI USB-485 converter uses the RS-485 or RS-422 serial protocols. Both converters are available in two or four-port configurations. The serial converters feature high-speed data throughput - up to 230.4 kb/s (NI USB-232) and up to 460.8 kb/s (NI USB-485). With the NI USB-485, engineers and scientists can communicate with up to 31 devices. The new converters also comply with the new high-speed USB Specification 2.0. The converters are ideal for scientific laboratory research applications in which engineers and scientists need USB technology to quickly configure and run their applications.

Engineers and scientists using the NI USB-232 serial converter can select their transceiver mode - data terminal equipment (DTE) or data communications equipment (DCE) - in software, or have the converter automatically detect the transceiver mode. These selectable transceiver modes give engineers and scientists more flexibility for communicating with serial devices. With the NI USB-485 serial converter, engineers and scientists can quickly configure their system with software selectable biasing.

The NI USB-232 and NI USB-485 serial converters include NI-serial driver software for Windows 2000/XP. Engineers and scientists can install and use the serial converters as standard serial ports from existing applications or with applications written with NI-VISA bus interface software.

About NI

NI leverages commercial technologies, such as industry-standard computers and the Internet, to deliver customer-defined measurement and automation solutions. Headquartered in Austin, Texas, NI has more than 2,800 employees and direct sales offices in more than 35 countries. NI increases the productivity of engineers and scientists worldwide by delivering easy-to-integrate software and modular hardware. In 2001, the company sold products to more than 24,000 different companies in more than 60 countries around the world. For the past three consecutive years, FORTUNE magazine has named NI one of the 100 best companies to work for in America.

Pricing and Contact Information

NI USB-232 2-port serial converter priced from $295; Euros410; ¥48,000
Contact: Local NI Office
NI USB-485 2-port serial converter priced from $345; Euros495; ¥56,000
E-mail: info@ni.com
Visit ni.com/serial

More from Electronic Components & Devices