USB Oscilloscope offers 5 GS/sec, real-time sample rate.
Press Release Summary: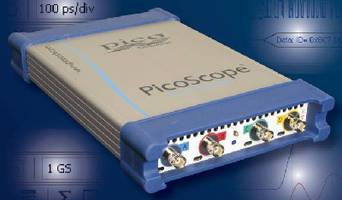 Featuring 350 MHz bandwidth on all 4 channels and 1 GS memory buffer, PicoScope 6000 Series can connect to any Windows® XP/Vista/7 computer with USB 2.0 interface. Standard capabilities include spectrum analysis, advanced triggering, and serial decoding. Additional features include built-in function generator, arbitrary waveform generator, mask limit testing, switchable bandwidth limiting on each channel, as well as switchable 1 MW and 50 W inputs.
---
Original Press Release:

Pico Technology Releases 5 Gigasample Per Second USB Oscilloscope



The new PicoScope 6000 Series oscilloscopes are the first USB scopes to offer a 5 GS/s real-time sampling rate. This is accompanied by an impressive 350 MHz bandwidth on all four channels. The scopes also have a huge 1-gigasample memory buffer, unsurpassed on any bench-top or USB scope.

The PicoScope 6000 Series is the latest product of Pico Technology's 18 years of experience in PC Oscilloscope design. The instruments pack more performance and features than ever before into a space-saving USB Oscilloscope enclosure. As well as the headline specifications, the scopes offer a built-in function generator, arbitrary waveform generator, mask limit testing, switchable bandwidth limiting on each channel, and switchable 1-megohm and 50-ohm inputs. This is in addition to the spectrum analysis, advanced triggering and serial decoding that are already standard features of Pico USB oscilloscopes.

The scopes connect to any Windows XP, Windows Vista or Windows 7 computer with a USB 2.0 interface. You can use one with a PC to save space on your workbench, or connect it to a laptop to create a portable instrument that's perfect for field servicing and on-site demonstrations. The high sampling rates and bandwidths make these scopes ideal for analogue and digital circuit designers, test engineers and installers. If you want to write your own application to control the scope, Pico provides a software development kit, including example code, free of charge.

Like all Pico Technology's PC Oscilloscopes, the PicoScope 6000 Series makes the most efficient possible use of your money. "You buy only the specialised oscilloscope hardware, while your own PC looks after the standard functions such as display, disk storage and networking", explained Managing Director Alan Tong. "All of the scope's features are included in the initial price, so there are no expensive upgrades or optional extra modules. You only need to decide whether to buy the scope on its own or with four 500 MHz compensated x10 probes."

The PicoScope 6000 Series oscilloscopes are on sale now, priced at only £3,000 for the 32-megasample model and £4,000 for the 1-gigasample model. The kits with probes are priced at £3,500 and £4,500 respectively. These prices include a generous 5-year parts and labour warranty. Order from your local distributor or visit www.picotech.com.

About Pico Technology
Established in 1991, Pico Technology is a worldwide leader in the design, development and manufacture of high-performance PC Oscilloscopes and Data Loggers. Since then, Pico has built up an impressive portfolio of products; including the PicoScope 2000, 3000, 4000, 5000 and 9000 Series and the brand-new 6000 Series PC Oscilloscopes, the ADC-20 and ADC-24 High-Resolution Data Loggers and the multi-award-winning Automotive Oscilloscope Kit.

Pico Technology prides itself on offering innovative, high-quality and affordable alternatives to traditional bench-top test and measurement equipment, designed and built under the ISO9001:2008 quality system. Pico Technology supports a network of distributors in over 60 countries worldwide who are helping to build and maintain its enviable reputation in the industry.

More information on Pico Technology can be found at www.picotech.com.

Pico Technology and PicoScope are internationally registered trademarks of Pico Technology. Pico Technology is registered at the U.S. Patents and Trademarks Office.

More from Thermal & Heating Equipment