USB I/O Control Box offers adjustable A/D output voltages.
Press Release Summary: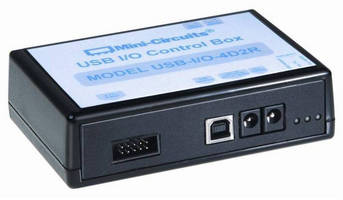 Supplied in 4.5 x 3.1 x 1.2 in. plastic case, model USB-I/O-4D2R is compatible and 32-/64-bit operating systems. Its 4 TTL/LVTTL adjustable digital output lines are buffered through noise reduction and voltage adjustment circuits, creating outputs that can be adjusted from 2.7-5 Vdc. Other features include 2-channel opto-isolated relay outputs, each delivering 24 Vdc/0.375 A; 2.7 ft USB cable; and CD with GUI and API-DLL com object.
---
Original Press Release:

Introducing a USB HID I/O Control Box



Servicing the microwave component industry for over 40 years Mini-Circuits has come to known as the global leader in RF, IF and microwave signal processing components. Manufacturing over 25 product lines Mini-Circuits is the first choice for electronic design engineers. IF/RF microwave component solutions from DC to 21 GHz with over 10,000 models to choose from. Worldwide manufacturing & sales offices products include; RF microwave amplifiers, amplifiers, attenuators, bias-tee's, RF chocks, phase detectors, directional couplers, power splitters & frequency mixers are featured. A broad range and variety of surface mount, plug- in and coaxial components available for all applications for all application requirements. Expanding our product line we are proud to introduce an all new USB I/O control box model USB-I/O-4D2R with adjustable TTL voltage.

Announcing a USB 2.0 Device, USB 1.1 compatible with HID device compatible and 32/64 Bit operating systems. Features include; 4 channel TTL/LVTTL adjustable digital outputs, noise reduction circuit on digital outputs, two channel opto-isolated relay outputs. Each can supply DC 24V/0.375A. Includes 2.7 ft. USB cable and CD with GUI (Graphical User Interface) software and an API-DLL com object.

Mini Circuits' USB-I/O-4D2R is a general purpose USB HID control box powered by a +24VDC power adaptor for the analog outputs and a power adaptor selected by the user anywhere from 2.7VDC to 5VDC to power the digital outputs. The control box features four digital TTL/LVTTL output lines and two 24V DC output lines. The four digital output lines are buffered through noise reduction and voltage adjustment circuits creating outputs (with very low noise levels) which can be adjusted from 2.7VDC to 5VDC according to the level of the TTL Vcc supply voltage which are accessed through a 10 pin IDC connector. The 24V output lines are optoisolated and supplied through relay contactors. The USB-I/O-4D2R is packaged in a small plastic case (size of 4.5" X 3.1" X 1.2"), and comes with a 2.7 ft. USB cable, a DC connector and a CD containing a GUI installation and control program with an API-DLL com object. Longer USB cables, ribbon cables for the TTL outputs and AC/DC power adaptors for +24VDC and +5VDC suitable for US, and EU power systems are available as additional options.

Since 1969 Mini-Circuits has provided signal processing solutions. Full range of surface mount, coaxial & plug-in; frequency mixers, power splitters, (low pass, high pass and bandpass) filters, mechanical & RF switches, transformers & VOC's (voltage controlled oscillators) lead the way of our extensive product line.

Engineers search by product line or search with our unique model search engine YONI 2. YONI 2 searches millions of data points from thousands of models to find a solution to meet your specific request. Also an extended line o products are offered in designer kit packages. Complete data on all models enables a quick evaluation of product performance. Featuring a commitment to innovation our products are hi-rel and ultra-rel with a 5 year guarantee. A partner program is offered to lower customers cost. IT (innovative technology) products offer smaller size, and better performance for a lower cost. Our Blue Cell product lines offer low temperature co-fired ceramic models. Surface mount products are available in Tape 'n Reel. Quality assurance certified to ISO 9001, certified aerospace standard AS9100, environmental regulations ISO 14001 certified and products are RoHS compliant.

International manufacturing and sales offices provide worldwide distribution, contact us for worldwide tech support call 718-934-4500, 800-654-7949 or customer service Fax; 718-934-7092, email us at sales@minicircuits or visit our website www.minicircuits.com for all our contact and product information.


More from Electrical Equipment & Systems