USB Flash Drives provide up to 64 GB capacity.
Press Release Summary: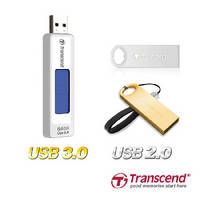 Featuring capless design, USB 3.0 JetFlash 770 and USB 2.0 JetFlash 520 enable users to store, transfer, backup, and share personal media files and vital data. Each can hold more than 30,000 images, 16,000+ mp3 songs, or over 23 hours of DVD quality video. JetFlash 770 is equipped with SuperSpeed USB 3.0 interface that provides transfer speeds up to 80 MBps. Crafted into lightweight metallic body, JetFlash 520 is water resistant and comes in silver or 24K gold-plated designs.
---
Original Press Release:

Transcend Releases 64GB High Capacity USB Flash Drives for Effortless File Storage



New Delhi, -- Transcend Information, Inc. (Transcend ), a worldwide leader in storage and multimedia products, today launched two new 64GB capacity flash drives including the 64GB USB 3.0 JetFlash 770 and the 64GB USB 2.0 JetFlash 520. With enormous storage space and clever capless designs, these USB flash drives offer the easiest way to transfer large files between USB port-equipped computers.



Extra-large 64GB Capacity

Taking full advantage of their 64GB capacity, Transcend's latest USB flash drives allow users to store, transfer, backup and share their entire collection of personal media files and vital data. Each 64GB flash drive can hold more than 30,000 images (jpg compression, 2MB file size), 16,000+ mp3 songs (4min per song, 128Kbps quality), or over 23 hours of DVD quality video (2.25GB per hour).



For Time-conscious Users: Ultra-fast USB 3.0 JetFlash 770 Flash Drive

Transcend's JetFlash 770 is equipped with a SuperSpeed USB 3.0 interface that provides strikingly fast transfer speeds of up to 80MB/s. Featuring a convenient capless design which protects the drive and its contents, users bring out or hide the connector using the brightly-colored sliding mechanism with a simple flick of the thumb. Besides the newly added 64GB version, the JetFlash 770 also comes in 8GB, 16GB and 32GB capacities.



For Trendy Users: Luxury USB 2.0 JetFlash 520 Flash Drive

To set it apart from the usual selection of USB flash drives, Transcend's "Luxury" series JetFlash 520 is crafted into an impossibly small and lightweight metallic body. The drive's rugged one-piece structure is completely resistant to water and can withstand excessive shock and vibration. As practical as it is attractive, the drive's capless design offers effortless operation, while the built-in keychain loop and included leather strap provide a handy yet fashionable way to backup, store and carry digital files. The JetFlash 520 is available in stylish silver or elegant 24K gold-plated designs, and is offered in 8GB to 64GB capacities.



Exclusive Data Management Software - Transcend Elite

For added value, Transcend USB flash drives offer a free download of the exclusive Transcend Elite data management software, which features intelligent backup scheduling, 256-bit AES file encryption, and much more. The new 64GB USB 3.0 JetFlash 770 and 64GB USB 2.0 JetFlash 520 are available for a suggested price of Rs.4270 (approx). Both are backed by Transcend's renowned Limited Lifetime Warranty.



Transcend is a globally recognized leader in the manufacture of storage, multimedia and industrial products. Established in Taiwan in 1988, Transcend offers a full line of standard and proprietary memory modules, flash cards, USB flash drives, portable hard drives, solid-state drives, digital music players, card readers, multimedia products and industrial products. Transcend has established offices in the United States, the United Kingdom, Germany, The Netherlands, Japan, Korea, China and Hong Kong. As a customer-focused company, Transcend has the ability to quickly respond to the market's changing needs. For more information, please visit www.transcend-info.com

More from Electrical Equipment & Systems