USB Distribution Rack powers signal conditioning products.
Press Release Summary: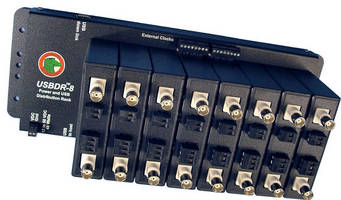 Designed for USBPxx-S1 single-channel programmable signal conditioning instrumentation amplifier and filters, USBDR-8(TM) facilitates building of high-channel count signal conditioning systems via single USB link to host controller and single power source. It can be populated with 1-8 USBPxx-S1 modules and supports multiple mounting options. Up to 96 channels of signal conditioning can be controlled on each of host's USB ports via daisy chaining.
---
Original Press Release:

New USBDR-8(TM) Multi-Channel Power and USB Distribution Rack for USBPxx-S1 Signal Conditioning Products



COSTA MESA, CA - Alligator Technologies, a leading supplier of data acquisition and signal conditioning products, today introduced the new USBDR-8(TM), a USB distribution and power rack for the Alligator Technologies' family of USBPxx-S1 single channel programmable signal conditioning instrumentation amplifier and filters. The USBDR-8 facilitates building high channel count signal conditioning systems with a single USB link to a host controller and a single power source. Each USBDR-8 can be populated from 1 to 8 of the USBPxx-S1 single channel signal conditioning modules. The USBDR-8 can be securely mounted in multiple ways. Available options are the 19" industrial rack mount bracket kit, a DIN rail mount kit, or the USBDR-8 can be mounted directly on the wall or just sit on a table top. A universal AC power adapter that can be used anywhere in the world is included or the USBDR-8 can be connected to any DC power source from 12V DC up to 50V DC making it an ideal choice for remote field, boat, or vehicle operation. Currently available is the USBPGF-S1 USB programmable instrumentation amplifier and low pass filter. The USBPGF-S1 module is compatible with all 12, 16, or 24-bit A/D devices and is ideal for filtering applications in sound and vibration testing, ultrasonics, acoustics, structural analysis, industrial, test, scientific and laboratory data collection and applied mechanical applications in electronics, aerospace, field research, automotive, and process control industries.

The number of channels that can be added to a host controller system is only limited by the number of USB ports on the host. Up to 96 channels of signal conditioning can be controlled on each USB port by daisy chaining up to 12 USBDR-8 with its uplink to downlink USB connections. Each channel on the USBDR-8 system will be uniquely identified and can be simultaneously controlled through the USB link. SystemViewUSBPxx-S1(TM) software is supplied at no additional cost to control the signal conditioning collection either with a Windows compatible graphical user interface or through any custom application using the programmers application program interface. The USBPxx-S1 can be mixed or matched on the USBDR-8 to provide a wide variety of signal conditioning operations in a single system. Once configured, each individual USBPxx-S1 can operate without the USB connection for turn-key applications.

As is true for our entire product line, the USBDR-8 is designed, developed, and manufactured, entirely in the USA.

Available from stock to three weeks ARO, the USBDR-8 comes with a one-year limited factory warranty and a lifetime of free software updates. OEM and dealer inquiries are welcome.

For More Information
Founded in 1984, Alligator Technologies has been developing an expanding line of filter and amplifier products since 1991. The company's current product line also includes the AAF-3PCI, a PCI bus plug-in instrumentation amplifier low pass filter system board, and the SCS-800 high performance portable or rack mount signal conditioning system with special function adapters for strain gauge, accelerometer, RTD, thermocouple, 0-20mA devices, accelerometer and piezo-bridge sensors. For more information about the USBDR-8, the USBPGF-S1 or other products from Alligator Technologies, please contact Robert Galter, Alligator Technologies, 2183 Fairview, Suite 220, Costa Mesa, CA 92627, USA. Tel: 949-515-1400. E-mail: rgalter@alligatortech.com or visit www.alligatortech.com.

More from Controls & Controllers