USB Digital Multimeter is designed for portable applications.
Press Release Summary: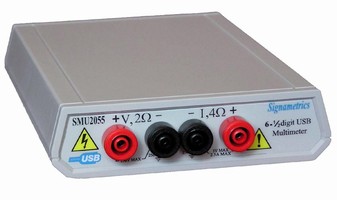 Weighing 8 oz and measuring 5 x 7 x 1.3 in., Model SMU2055 6½-digit multimeter is powered directly from USB connection and consumes only 1.5 W. It operates at up to 250 readings/sec and can measure 4 ranges of of both ac and dc Volts and current, 6 ranges of 2- and 4-wire ohms, and diode test at 4 user selectable currents from 1 µA to 1 mA. Plug-and-play software installation is compatible with wide range of software packages.
---
Original Press Release:

Signametrics Corporation Announces a USB Digital Multimeter, Raising the Bar on Performance, Size and Cost.



At $695 the 6-½ Digit SMU2055 is the best bang-for-the-buck. This superb USB DMM outperforms any other DMM in its category.

Seattle, WA - April 1, 2008: Signametrics Corporation, a leader in plug-in Digital Multimeters and Switches, announces the release of the SMU2055 USB Digital Multimeter. At 8 ounces and dimensions of 5'' X 7'' X 1.3'', it is a 90% reduction in size and power from bench-top DMMs. The SMU2055 is powered directly from the USB connection, and consumes only 1-½ Watts. It is ideal for use with a laptop, opening up new possibilities for portable applications.

Our plug-and-play software installation is compatible with a wide range of software packages. Signametrics has no vested interest in forcing customers to use any specific software packages, truly empowering the customer.

Key features of the SMU2055
o At $695,it is the lowest cost 6-½ Digit USB DMM
o Ideal for portable applications (5'' X 7'' X 1.3')
o Wide range of software packages supported
o plug and play installation, fast to setup and simple to use

Full featured 6-½ Digit DMM with USB interface
o DC Volts, 4 ranges
o DC current, 4 ranges
o AC Volts, 4 ranges, True RMS
o AC current, 4 ranges, True RMS
o Ohms, 2Wire and 4Wire, 6 ranges
o Diode Test at 4 user selectable currents, 1uA to 1mA
o Up to 250 readings per second
o Fast range and function changes

True 6-½ digit USB DMMs
While most 6-½ digit DMM's are limited to around 1,000,000 A/D counts, the SMU2055 sports 2,400,000 counts. This is gives ten (10) times the resolution for a wide range of inputs. For example, the SMU2055 measures 14VDC with 10uV resolution, while other 6-½digit DMMs are limited to 100uV resolution. This high dynamic range reduces the number of times you need to change ranges, allowing shorter test times.

A Family of Test and Measurement Plug-In Instruments
These USB DMMs are a great choice for burn-in, production test and R&D as well as portable applications. These US designed and built units should be considered for bench top, portable and automated test. All you need is a vacant USB port. No additional power cords or data cables are required. Measurements can be displayed on the computer monitor using a familiar looking DMM panel. The DMM can also be used in an automated fashion with a user-generated control program, utilizing one of many compatible software packages and operating systems.

The addition of this state-of-the-art USB DMMs to the existing lineup expands the offering of DMMs from Signametrics to 14 PXI, PCI, VXI and USB models, enabling users to select the best fit product, at the lowest possible price, using the same software.

Universal Software Support
Installing this USB unit is short, easy and smooth. Signametrics does not try to enslave or channel customers to any specific software package. Therefore the drivers are designed to interoperate with as many different systems as possible. Our growing list of supported packages include C++, Visual Basic®, .Net, LabView®, LabWindows/CVI®, C#, Delphi, Mat Lab®, VBA, Word®, Excel®, ATEasy®, HPVee® and a lot more. Operating systems include all Windows flavors, 32bit and 64bit Linux and TenAsys' INtime®.

Expect to start making measurements within a few minutes from the time the unit is out of the box. Family compatibility with all other Signametrics DMMs facilitates painless upgrades. All Signametrics DMMs are accompanied by a soft front panel, Windows applications and Linux drivers, as well as various code samples.

About Signametrics
Signametrics pioneered plug-in Digital Multimeters eighteen years ago, and continues to lead in this market with the most advanced features and ever increasing accuracy functionality and speed. You can obtain these products as OEM from our distributors and reps or direct. All come with a 30 day no-risk return policy and one year warranty. Visit Signametrics website for more information about their Digital Multimeter and LCR Meter products.

US List Prices and Availability
The SMU2055 is the most competitive USB DMM, and so is the price. At $695 it is very affordable. Allow two to four weeks. For more choices of DMMs at low cost, contact sales@signametrics.com, or call us at (206) 524-4074. Visit us at http://www.signametrics.com/

Company Contact:
Signametrics Corporation
Michal Kaufmann
(206) 524-4074
Seattle Washington, USA
michal@signametrics.com

More from Electrical Equipment & Systems